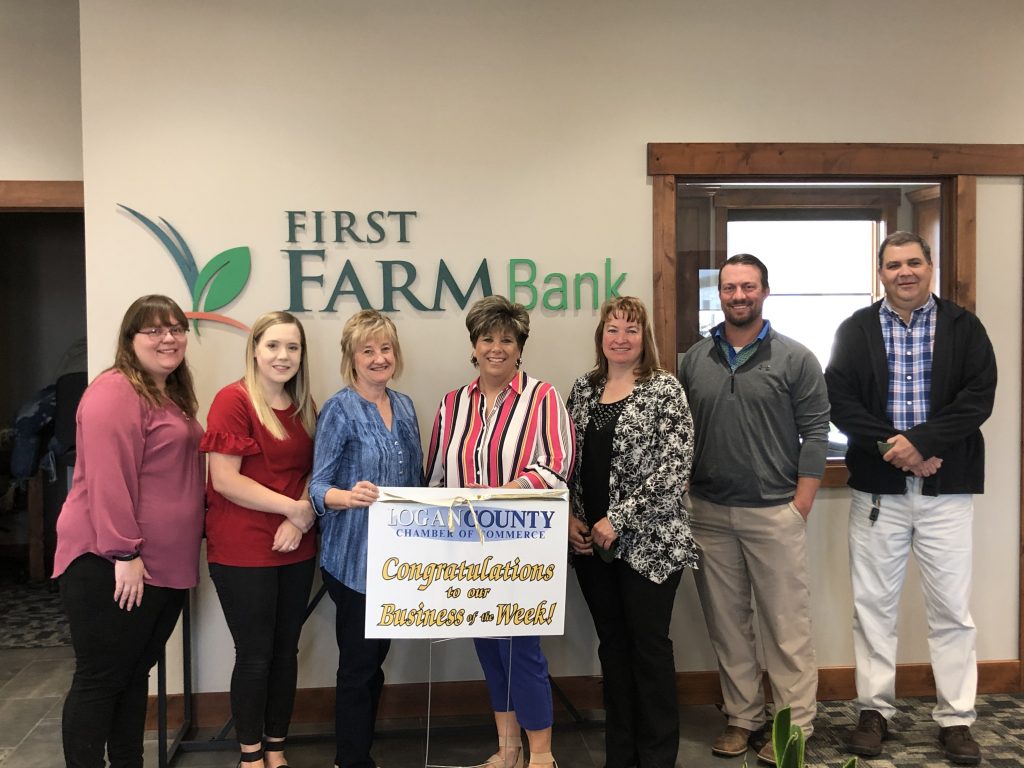 First FarmBank
Business of the Week
9/21/2020
First FarmBank was founded in 2007 and expanded into Logan County by opening our Sterling Branch in 2013. Starting in a temporary office space, they broke ground on their current (permanent) facility soon thereafter. First FarmBank is deeply devoted to this community and they were excited to build in Sterling. As a community bank, it's important to them to support those who live in the areas they serve. They were proud to use local contractors for this project. Our new branch building officially opened on July 18, 2016.
The idea of First FarmBank began with the desire to offer superior banking products and services - specifically in the areas where many people have felt underserved. As their founders were all involved in agriculture, First FarmBank was built upon the ideas and promises that their founders had for or their great farmers and ranchers: they work to create the right conditions for their customers to grow and manage their finances. It's important to know that they are a full-service community bank that is proud to serve all types of customers - not just those involved in agriculture.
They opened their first branch in Greeley in 2007 and since have grown to five branch locations in Colorado and Kansas. While many organizations tend to focus on the I-25 corridor and more populated areas, First FarmBank subscribes to a different approach. They focus on the communities East of I-25, proudly serving the great rural communities in their area.
They have invested a significant amount of resources in technology and remote banking options. In the past 18 months, they have implemented more than 10 services or service enhancements including online account opening, debit card rewards, and Zelle. Here are some of their favorite new services:
- Allpoint Surcharge-Free ATM Network: First FarmBank debit cardholders have access to 55,000 ATMs worldwide for FREE!
- Card Defender app: easily turn their debit card on/off from their phone. They can also implement merchant and other location controls so they can determine when, where and how their debit card can be used -uChoose Rewards: earn rewards points on every purchase made with their First FarmBank VISA Debit Card. Redeem for cash, merchandise or experiences. (Www.firstfarmbank.com/uchooserewards.aspx for full details)
Their Sterling branch is open from 7:30 a.m. to 5:30 p.m. (drive thru) and their lobby 9:00 a.m. - 5:00 p.m. (lobby) Monday through Friday. Their drive thru is also available from 8:30-noon on Saturdays. They offer a drive-thru ATM and night depository for after-hours deposits. They are conveniently located on West Main Street and have a friendly and knowledgeable staff that would love to assist you with your banking needs
Please join the Logan County Chamber of Commerce in congratulating First FarmBank as this week's Business of the Week and tying our Community together!
Logan County Arts League 9/14/2020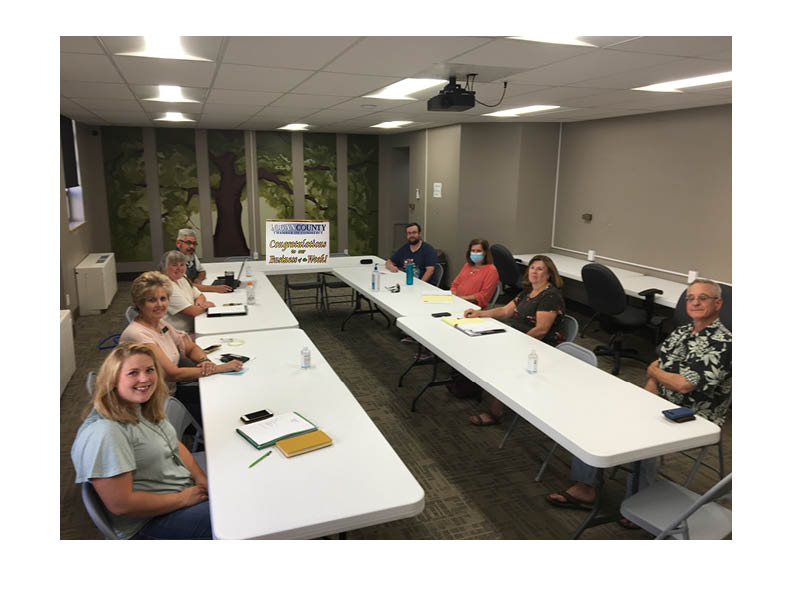 Logan County Arts League
Business of the Week
9/14/2020
In 2018 LOCAL - The Logan County Arts League worked with the Sterling Arts Council, established in 1971, to merge and complete a rebranding effort. Soon after Sterling Creative District was formed under the LOCAL umbrella and gained state certification December 2019.
LOCAL is managed by a board of directors made up of seven members with President Linda Merkl, Treasurer - Loretta Davidson and Secretary - Denise Gaynor. The Office of Economic Development, CSU Engagement Office, Logan County Arts Council, Logan County Chamber of Commerce and a wide range of artists, municipal government officials and community members gathered together in an effort to create LOCAL and the Creative District.
LOCAL was formed to fill a need in the community to expand on our amazing public art and cultural events and to support Logan County Artists and creative organizations. LOCAL has been a 501C3 umbrella organization for the creation of both Sterling Creative District and the upcoming High Plains Film Festival 2021. The thirteen-year tradition of July Jamz has been joined by Art in the Square, and Artstober to name a few new annual community events.
LOCAL meets monthly at The Annex a co-workspace managed by the Office of Economic Development and located in the old jail owned by Logan County. Use of the space was given in exchange for murals throughout the building by previous President and founding member Cindy Moore. LOCAL has hosted three Colorado Art Educators Art Shows with the Chamber of Commerce. Art in the Square, an arts festival centering around chalk art with a Art Department chalk competition and cash donations to support them, live music, vendors and food. July Jamz, a concert series every Friday in July in historic downtown Sterling on the Logan County courthouse lawn with beer garden and food trucks. LOCAL Jamz a pre-July Jamz event featuring local musicians. Artstober a collaboration with local businesses to promote and display all the Autumn festivities and fall inspired food and beverage Sterling has to offer. 2019 featured a Bike Fest and Art Bike Parade with the City of Sterling to show off their new river access. Partnering with the Chamber on Corn Maze Mania, a fun opportunity for organizations to compete to win money to the non-profit of their choice. Supporting advertising for Sterling Creatives Artist Co-Op's weekly classes and demonstrations as well as the Miracle Players Haunted house among other activities. A fall Artstober concert with two local bands, Stahley's Pumpkins and beer garden by Parts and Labor Brewing Company. Hosting the Chamber's Business After Hours at The Annex and finishing up with the Zombie Crawl. The Zombie Crawl included music provided by KPMX, Miracle Players Thriller performance, Popcorn and drinks at Clarence's Corner by the Girl Scouts, zombie makeup by Northeastern Junior College, a scavenger hunt to walkable Creative District businesses and costume competitions with prizes donated by participating locations. Artstober -November 2nd 2020 will feature two 8 foot tall nichos decorated by community members in celebration of Día de los Muertos provided by the Denver Botanic Gardens among other fun activities. LOCAL has been working on attaining grants for art programming for the community. They recently applied for an Arts in Society Grant with Centennial Mental Health LLC. to provide therapists and artists to demonstrate and teach lifelong creative coping skills virtually and in group settings. In an effort to bring more public art and beautification to Chestnut St. while encouraging community involvement through artist talks and community nights, LOCAL has partnered with the City of Sterling, Logan County and the Citizens Advisory Board to attain matching funds for the Our Town NFA Grant and support for this project out of designated art and beautification funds. LOCAL is an organization made up of community members passionate about the arts and our town. They plan to continue striving to bring more art and programming to Logan County as well as supporting our artists and creative business.
LOCAL is an organization made up of people passionate about the arts and our community. They plan to continue striving to bring more public art and programming to Logan County as well as supporting our artists and creative business.
If you have an interest in getting involved as a board member or just to help out please contact Program Manager Mandy Ritter at sterlingcreativedistrict@gmail.com or call (970) 571-7179
Please join the Logan County Chamber of Commerce in congratulating Logan County Arts League as this week's Business of the Week and tying our Community together!
Sterling Public Library 8/31/2020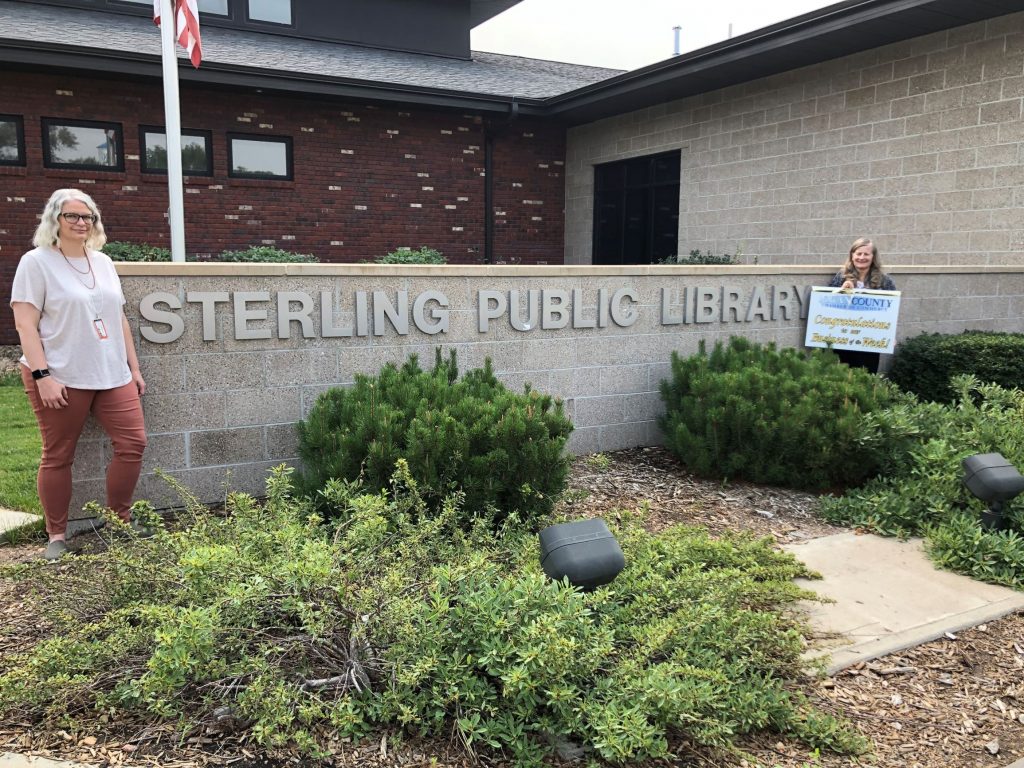 Sterling Public Library
Business of the Week
8/31/2020
Sterling Public Library opened on April 12, 1918 with much help from the Zeta Zeta Club.  Money was raised from the community and with a generous gift provided by Andrew Carnegie Sterling was able to have a public library.  The first librarian was Katherine Marvin.
Sterling Public Library is a part of the City of Sterling. The library is funded through the City's general fund.
Sterling Public Library was started to provide reading materials to the community.
In 1953 the public library and Logan County Library were combined.  The library remained in the Carnegie Building on the corner of South 4th St. and Ash until moving to the current location of 420 N. 5th St.  The current building was dedicated on Aug. 1, 1976.   On April 1, 2010 ground was broke for a new addition of 5478 sq. ft.  The addition and complete renovation of Sterling Public Library was completed in February 2011.
Sterling Public Library is no longer just a place to borrow books.  The library offers various forms of technology.  Sterling Public Library provides downloadable books, audios and magazines for all ages through Overdrive.  Computers are available for use by all.  Wireless printing is also available.  There are special devices such as Playaway Views and Launch Pads available for children.
Under normal circumstances the library offers a wide range of programs.  One of our most popular programs is Story Time.  Denise Ladd and Connie Chambers have a great time introducing early literacy to children.  Erica Kallsen provides programming for teens.  Some of these programs have involved cooking, art, movies and much more.  We also provide informational programs such as medical or financial information and entertaining programs such as our annual teas for adults.
Each year during the summer the library provides a Summer Reading Program.  It has been found through numerous studies that reading for pleasure during the summer helps kids maintain skills for the next year.  During the summer the program provides incentives for reading and most summers many educational and entertaining programs are offered as a part of the program.
Sterling Public Library also provides several annual programs.  Santa City is provided with the Recreation Division for kids of all ages.  Kids are able to have their picture taken with Santa, complete a craft, enter a coloring contest, draw for a prize, watch Christmas movies and enjoy refreshments.  The Library also holds the Parade of Trees each year.  Community members help decorate trees and an Open House is held where all the lights are turned down to enjoy the sparkle of the trees.  Live music and refreshments are provided throughout the evening.
The library is involved with a Growing Readers Together grant.  Through the grant the library is working to reach informal and unlicensed care providers who care for children under age 6.  Denise Ladd provides information and resources about early literacy and how you can help children in your care learn and grow.  Through the grant the library will also have wonderful educational materials in the library for children to enjoy as soon as conditions allow.
The library continually purchases new books for all ages.  However, we cannot possibly purchase everything.  For those items we do not have and you wish to use, the library provides Interlibrary Loan.  Dorothy Schreyer processes ILL requests to help you obtain what you need.
Vickie Wettstein, Tish Ramos and Megan Riveria-Howard are also available to help you in the library.  This group  provides great support in making the programs happen.  The Sterling Public Library staff are all here to serve you.  Library staff has 142 years of service and experience serving you.
The library holds an annual Quilt Show in March.  Quilters and those who own quilts graciously display their pieces to share with the community.
Please join the Logan County Chamber of Commerce in congratulating Sterling Public Library as this week's Business of the Week and tying our Community together!
Viaero Wireless 8/24/2020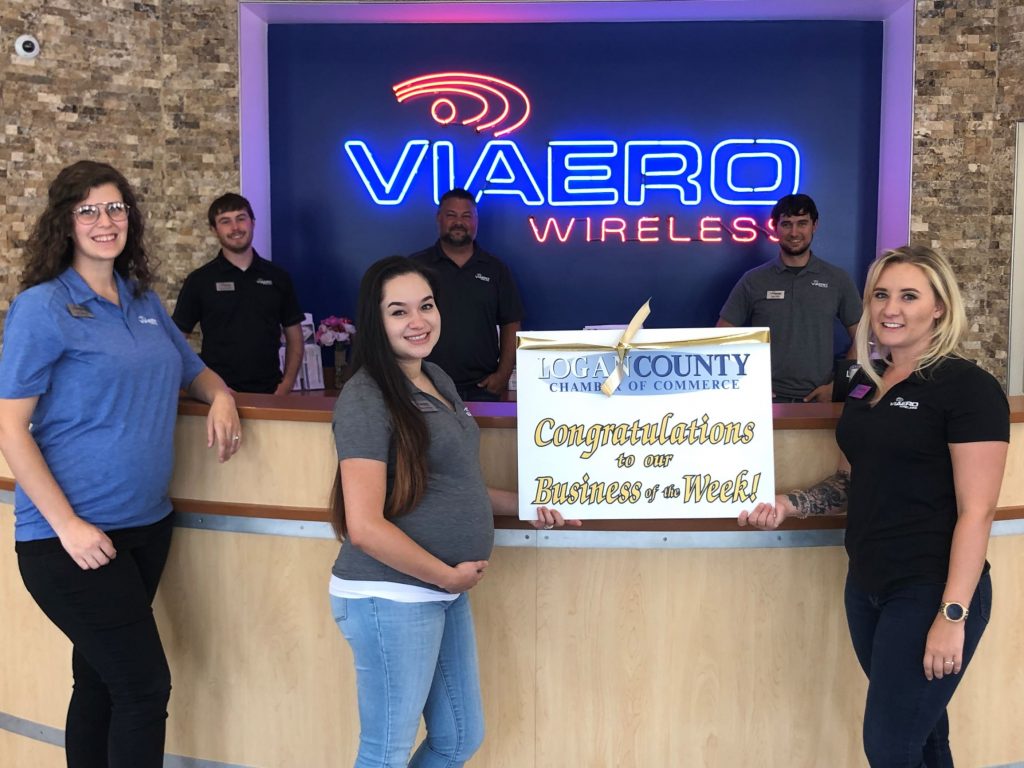 Viaero Wireless
Business of the Week
8/24/2020
     Viaero Wireless located at 516 W. Main Street, was founded in 1991 by Frank DiRico, with a mission of providing underserved rural communities with the same technological advantages enjoyed by urban America. As someone who has always loved the rural lifestyle, Frank's belief in the value of personal, local customer service has permeated the entire culture of Viaero Wireless. This value is one of the foundations of how Viaero's network of stores in Colorado, Nebraska, Kansas, and Wyoming operate. Delivering personalized service also shapes the operations of the company's team of customer service, sales, and corporate employees.
The company started with one store in Ft. Morgan and expanded its retail presence with the Sterling store in 1995. Since its inception, the store's staff has been actively engaged in the Sterling community. Not only has the company provided free Wi-Fi to the fairgrounds, but events like toy drives, car wash fundraisers for local schools, school supply drives, and Trick or Treat Street have given back to Sterling's residents.
Today, Viaero Wireless has a network of 42 stores. The company's newest store in Sterling was built in 2018, and then received an updated look along with all of their other stores in 2019. Viaero specializes in keeping customers connected to their families, friends, work, and communities at home, nationwide, and around the globe.
One of Viaero's priorities is providing the latest in cellular technology, including top phone brands such as Apple's iPhone and Samsung's Galaxy and Note product lines. Another priority is offering family and budget-friendly plans. The unlimited, shared, and prepaid options are some of the most affordable available.
Finding new ways to create value and improve network coverage and capacity are helping to drive the company's future. The company recently introduced its Student Unlimited with a smartphone included, as well as a Family Advantage plan with unlimited cellular service and smartphones for a family of four. Viaero's ConnectED program is yet another recent development, designed to help K-12 schools deliver remote learning.
Viaero Wireless also provides residential and commercial high-speed internet services to keep customers connected to school, work, and family. The company's associates are friendly, knowledgeable, and ready to help with phone issues, even if someone is not yet a part of the Viaero family. Viaero strives to offer the best service and coverage at the lowest prices.
Please join the Logan County Chamber of Commerce in congratulating Viaero as this week's Business of the Week and tying our Community together!
Quilts-N-Creations 8/17/2020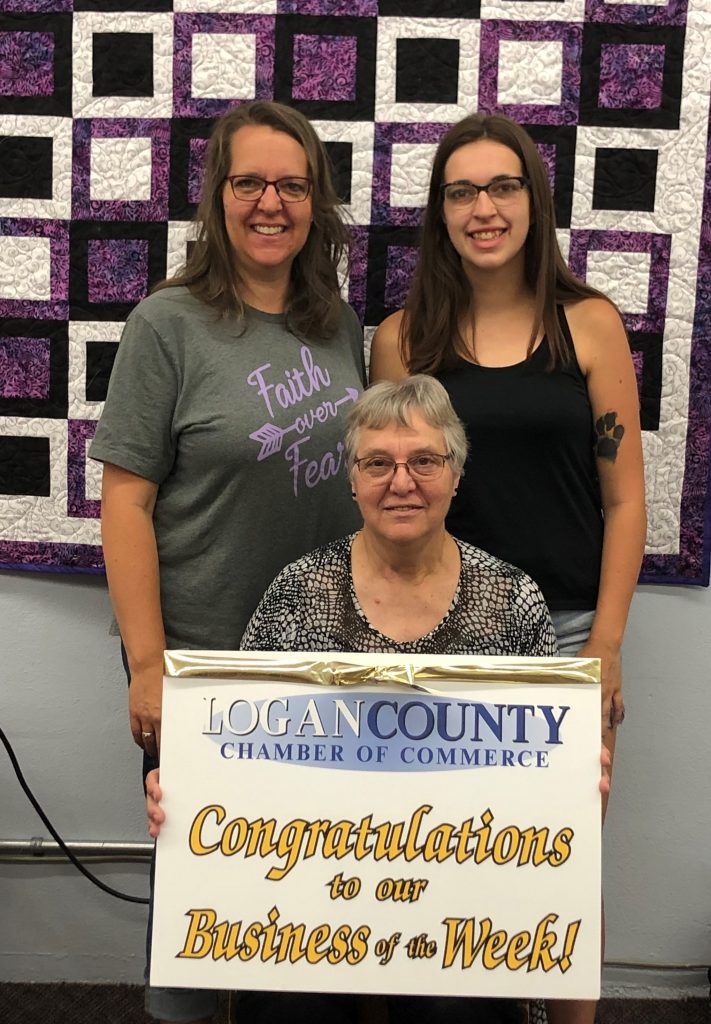 Quilts-N-Creations
Business of the Week
8/17/2020
Leta Propst and Dorothy Duncan started the business on June 10, 1987; It was a special centennial celebration for Sterling and they wanted to be open for that day. Now the business is owned by Leta and her daughter, Shauna Houser.
A need for a quilt and fabric shop and their love for sewing and their mom's love for quilting got this business started.
They had a very unique beginning.  In 1987, the talk of a quilt store began with Leta and her mom, Dorothy.  At the time Dorothy and her husband, Everett were running Teen Acres, a group home for teenage girls and they were also partners of the Bible Lighthouse.  Leta worked as a secretary at the facility.  They decided to start buying bolts of fabric which led to having a sales rep come and show some fabric.  On their way to Sterling, this sales rep talked about their own quilt shop in Loveland.  They were both salesmen and wanted to travel together.  So on Thursday, of the same week, they went to look at their quilt shop.  Plans were finalized by the end of day and on Saturday they took a truck, pickups and a trailer and loaded up the quilt shop.  At this point they had only looked at a few buildings for their shop.  Now they had store inventory and no building.  The next week they settled on a building at 201 Ash St.  It was a great location but needed a lot of work.  Their family has never been afraid of work, so they started to work long hard hours because there was a deadline to meet.  Sterling was having a centennial celebration and they wanted to be open.  Ten days after they purchased the quilt shop they were open for business.  Shortly after opening they became a Bernina dealer and from there they just kept growing and changing.  They added custom sewing, custom quilting, and classes.  Through the years, the store has employed several people including grandkids and gives them a beginning job in the retail world.  Their next adventure started when the Bible Lighthouse closed and the building was available.  They moved their store May 31, 2014 to the current location of 125 N 2nd St.  It gave them a chance to have the retail part of the store all in front and more room.  Shauna and Leta continue to do custom sewing, custom quilting and embroidery.
They say God has truly blessed them over the last 33 years.  He has brought them through tough months.  They are truly blessed to have their local customer base and the loyalty of their out of town customers and would like to say Thank You to each and every one of them!
They have fabric and sewing supplies. They are a Bernina sewing machine dealer and Jim's Formalwear dealer.  They carry Bibles and a few devotional books and boxed greeting cards. They have a full class schedule for kids each summer and classes for adults throughout fall and winter.  Their Sew Creative Club is for sewing enthusiasts and they meet once a month on the 3rd Thursday at 9:30 am or 5:30 pm.  Different techniques and projects are learned each month.  Also Imagination Club meets once a month on the 1st Saturday.  Their "block of the month" usually starts in February or March and will last for a year, meeting once a month to have a lecture/demo class to work on a quilt.  Please contact them at (970) 522-0146 or 125 N 2nd St, Sterling, CO 80751.
Please join the Logan County Chamber of Commerce in congratulating Quilts-N-Creations as this week's Business of the Week and tying our Community together!
High Plains Spice Company 8/10/2020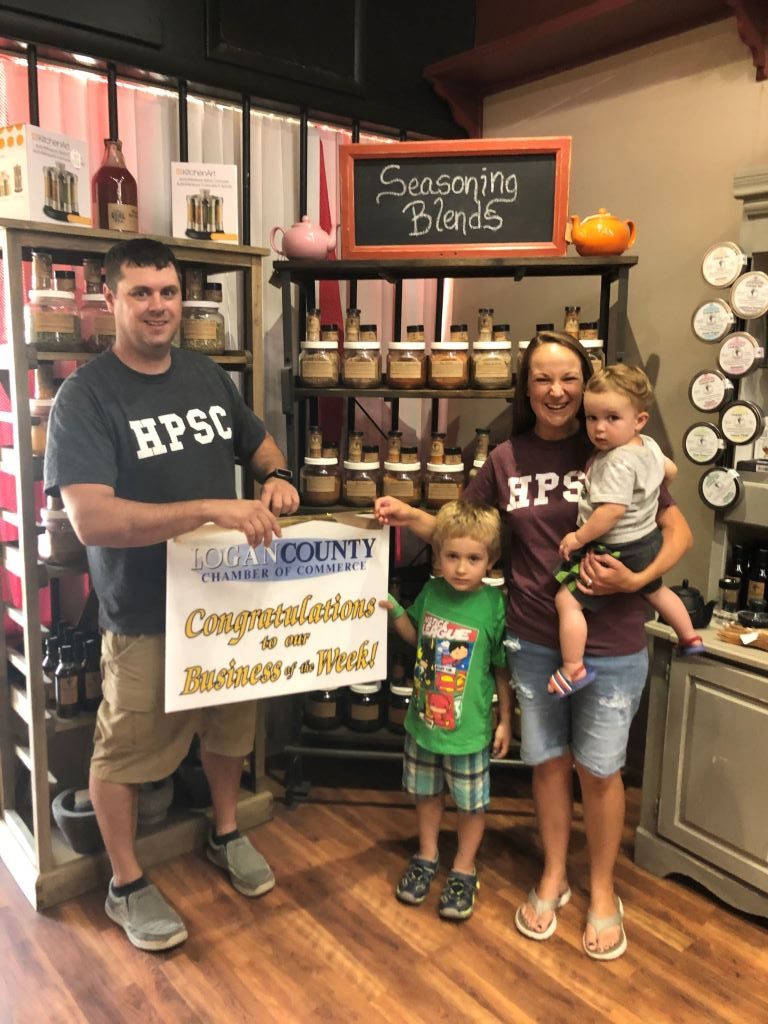 High Plains Spice Company
Business of the Week
8/10/2020
High Plains Spice Company 312 Main St, Sterling, CO 80751 was started 2013 by B.J. and Lacey New.
B.J. and Lacey have always had a great passion for food, both for cooking and for eating, so the idea of something in the culinary realm just came naturally. Recognizing a trend in the food industry that included more spices and flavors in home cooking, and being adventurous eaters themselves, the couple decided to try their hand at creating seasoning blends. After creating their first blends at their kitchen table and testing packaging and products on family and friends, B.J. and Lacey began attending craft fairs and offering products online. After a very positive reception, they concluded that a retail location would lend legitimacy and increased productivity to the business. High Plains Spice Company opened on October 25th of 2013 at 312 Main St. in Sterling, CO.
In the spring of 2014, HPSC was awarded a grant from the El Pomar Foundation after winning the top prize in Northeastern Junior College's Business to College business plan competition. The grant allowed the company to expand current product lines and streamline many production processes.
In the following years, many more products, including olive oils and balsamic vinegars, BBQ and soy sauces, hot sauces, pickled olives, cocoa mixes, and many more spices and seasoning blends have been added to the shop's core offerings of spices, blends, coffee and tea. Additionally, HPSC partners with local producers to include products like pickles, Bloody Mary mix, and local honey, as well as handmade cutting boards, cheese slicers, spice racks, and custom kitchen utensils.
HPSC further increased their product offerings fall of 2015 by opening High Plains Winery (HPW) inside High Plains Spice Company.  As a Limited Winery, HPW can make up to 100,000 gallons of wine, as well as carry wines produced in the state of Colorado. We currently offer 19 different varieties of wine from five Colorado wineries/vineyards and are in the process of creating small batch wines that will be available as a limited release under the High Plains Winery label.
At present, HPSC has seen great growth in online sales and is taking steps to continue to expand this area of the business. In addition, they continue to add new products and create new seasoning blends. They are currently working on a new product line they hope to have ready for the 2020 Holiday Season. No spoilers but it's going to be delicious!
HPSC creates and packages a large number of food products as well as unique kitchen utensils.
To support local 4-H and FFA members, they are offering 15% off any gift box purchased as a buyer's gift, now through September 15th Please contact us at (866) 570-1425 or highplainsspicecompany.com.
Please join the Logan County Chamber of Commerce in congratulating High Plains Spice Company as this week's Business of the Week and tying our Community together!
Waste Management 6/15/2020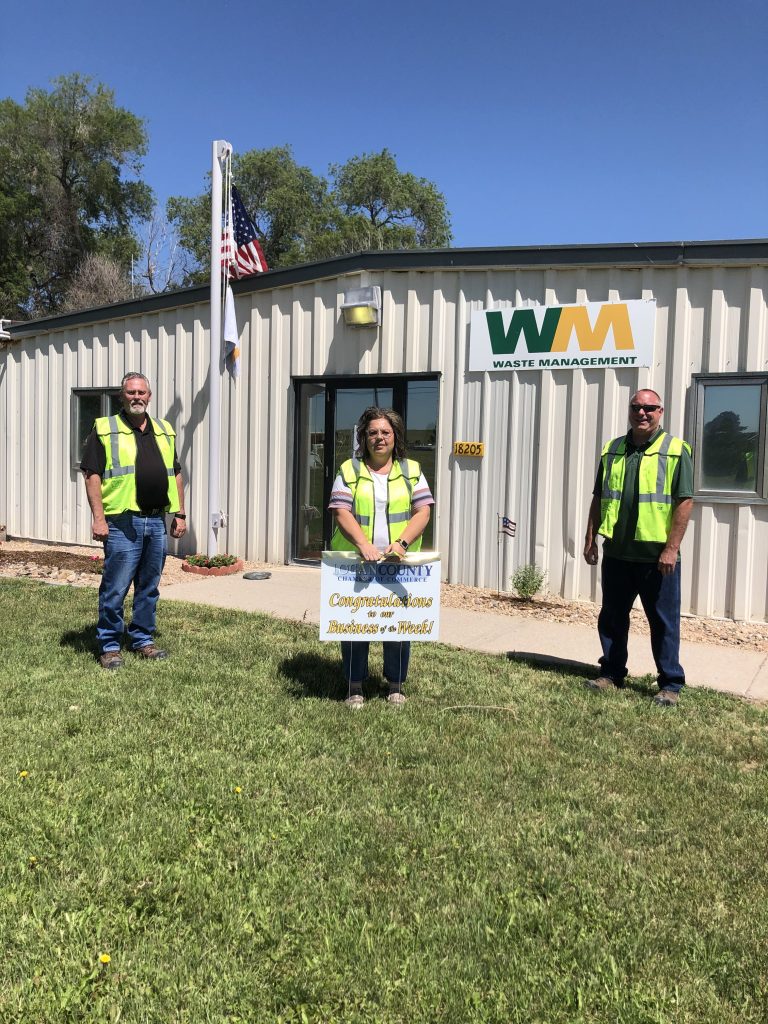 Waste Management of Colorado
Waste Management of Colorado has been serving local communities for 57 years. They have 14 team members based at our Sterling hauling site, including professional drivers, technicians, and operations staff. Their team is committed to delivering the safest, most reliable service to our neighbors.
Waste Management is a publicly held company with national and local shareholders (including their employees).
Their sanitation roots extend back to the late 1800s, when the grandfather of one of their founders started collecting trash in a small wagon. Their founders wanted to serve their community by properly managing the waste produced by a rapidly growing population consuming more and more products built for convenience.
In the early 1980s, Waste Management became one of the first truly integrated waste companies, not only collecting waste but responsibly managing the landfills it ends up in. And they were also one of the first to recognize the burgeoning recycling movement, building robust collection, materials recovery and materials marketing infrastructures to ensure that more of our waste finds a second life.
They remain committed to building a more sustainable future. They recently invested in cleaner-burning CNG (compressed natural gas) trucks and fueling infrastructure in Northern Colorado. These trucks emit nearly-zero emissions. They run quieter and cleaner in the communities we serve.
Waste Management offers trash collection services to residential and commercial customers. Cardboard recycling for businesses is also available. They provide temporary roll-off containers and portable toilet services for construction projects and events. In Logan County, they provide septic service.
For residents interested in recycling, WM has recycling bins at 18211 Iris Drive in Sterling, to use free of charge. Residents can bring clean items to drop off for recycling, including flattened cardboard; clean paper (office, newspaper, brown bags), empty plastic bottles & jugs; empty glass bottles & jars; and empty aluminum, steel & tin food and beverage cans.
They would like to thank the community for the outpouring of support shown to their team during the current health crisis. Your heartfelt encouragement as they continue to deliver their essential service is greatly appreciated.
Waste Management is located at 18211 Iris Drive or you can call 970-522-2248.
Please join the Logan County Chamber in congratulating Waste Management of Colorado as this week's business of the week and tying our community together!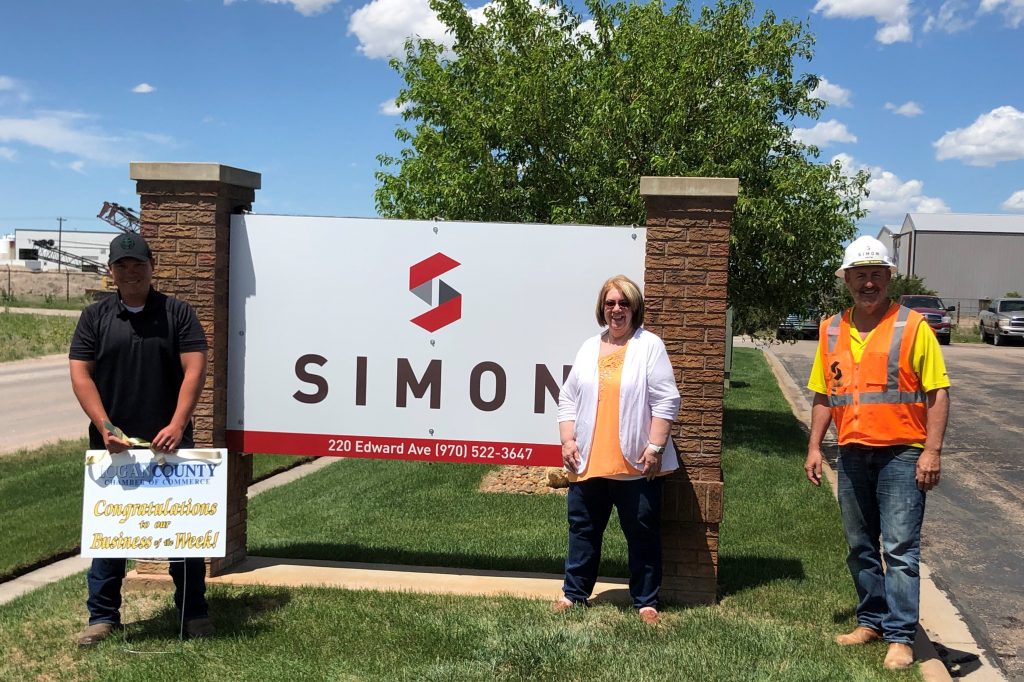 Simon (formally McAtee Construction Co. in Sterling, CO) was founded in 1954 by James E. Simon.  He was a man who like to play with big toys – the messier the job, the better.  The company's early projects started with minor building, concrete and pipeline construction, and eventually, asphalt work.
To better accommodate increasing asphalt projects, Simon opened as Asphalt plant in North Platte, NE in the late 60's.  This enabled the company to make asphalt a predominate part of Simon's business.
In the early 80's James Simon purchased his first Concrete Ready Mix Plant in Cheyenne, WY.  This facility empowered Simon to create concrete mixtures offsite and deliver in bulk to construction sites.  This also is where Simon Corporate offices are now located.
By the 2000s, Simon had completed projects in most states west of the Mississippi River, operating as part of Colas North America.  Simon operates locations in Nebraska, Wyoming, Colorado, and South Dakota.  In 2000, Simon acquired plants in Ogallala, NE and Sidney, NE.  In 2004 Simon purchased Sterling Ready Mix and McAtee Construction Company in Sterling, CO.  In 2008, Simon acquired plants in Scottsbluff, NE and Fort Morgan, CO.
Simon offers the following products and services:
·         Materials: Asphalt, Emulsion, Aggregates, and Ready-Mix Concrete
·         Construction: Asphalt Paving
Simon is a vertically-integrated company.  Vertical Integration means that we produce many of our own raw materials used in construction projects.  Examples of vertical integration include production of aggregate materials, ready-mix concrete, and asphalt products.
Here in Sterling the Simon facility is run by the following:
·         Jeff Harms – Construction Manager
·         Victor Anido – Concrete/Asphalt Manager
·         Mike Weingardt – General Superintendent
·         Pam Claymon – Contract Administrator
·         Jeromy Smith – Project Engineer
·         John Ellis – Paving Superintendent
·         Jim Wheelock – Plant Supervisor
·         Josh Park – Concrete Foreman
All total the Sterling location employees 34 employees, from equipment operators, labors, CDL Aggregate Drivers, Ready Mix Drivers, and shop mechanics.
Come check them out they are located @ 220 Edwards Avenue or call them at 970-522-3647.
Journal-Advocate 5/18 /2020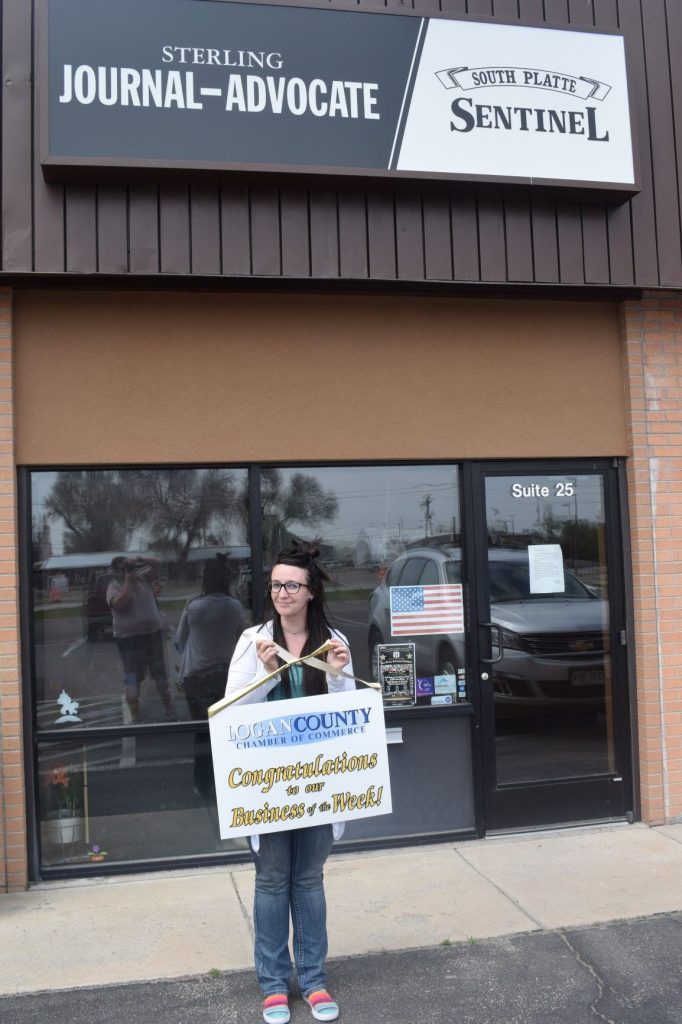 The Journal-Advocate's roots go back as far as 1885, but has carried its current name since 1954, from the merger of the Sterling Advocate, established in 1910, and the High Plains Daily Journal, established in 1952. The newspaper was published in the afternoons until 2014, when it made the switch to morning delivery, and continues to publish six days a week (Monday-Saturday). In addition to the print edition, subscribers can also access a digital replica of the J-A through the website, www.journal-advocate.com, or via its e-edition app.
Over the decades, the daily newspaper has seen many changes. It is now owned by Prairie Mountain Media, a subsidiary of MediaNews Group, which owns more than 15 daily and weekly newspapers in Colorado. In 2016, the Journal-Advocate acquired the local weekly paper, the South Platte Sentinel, from owners Delinda Korrey and Ken McDowell. The J-A continues to publish the Sentinel weekly.
Brian Porter took the reins as publisher in June 2019; he also serves as publisher for Journal-Advocate sister papers The Fort Morgan Times and the Brush News-Tribune. Porter leads a staff of eight.
Editor Sara Waite has been with the paper since 2008. Assistant Editor Callie Jones joined the staff in 2007. Jeff Rice, who previously served as an editor of the J-A, returned to the paper as a reporter in 2016. The newest addition to the editorial staff is sports reporter Hart Pisani, who came on board in February.
In the advertising department, Kim Francis and Steve Buxton have been helping local businesses reach their customers since 2016 and 2017, respectively. Samantha Fagan came on board as circulation manager in 2019.
The newspaper office moved from its long-time location on N. Third Street to a new home in the Broadway Shopping Center last summer. While the office is currently closed due to the COVID-19 pandemic, it can be reached at 970-522-1990.
The Journal-Advocate is proud of its long history of serving as the daily source for local news and sports in Sterling and Logan County, and looks forward to continuing that tradition for years to come.
Aero Applicators 3/23/2020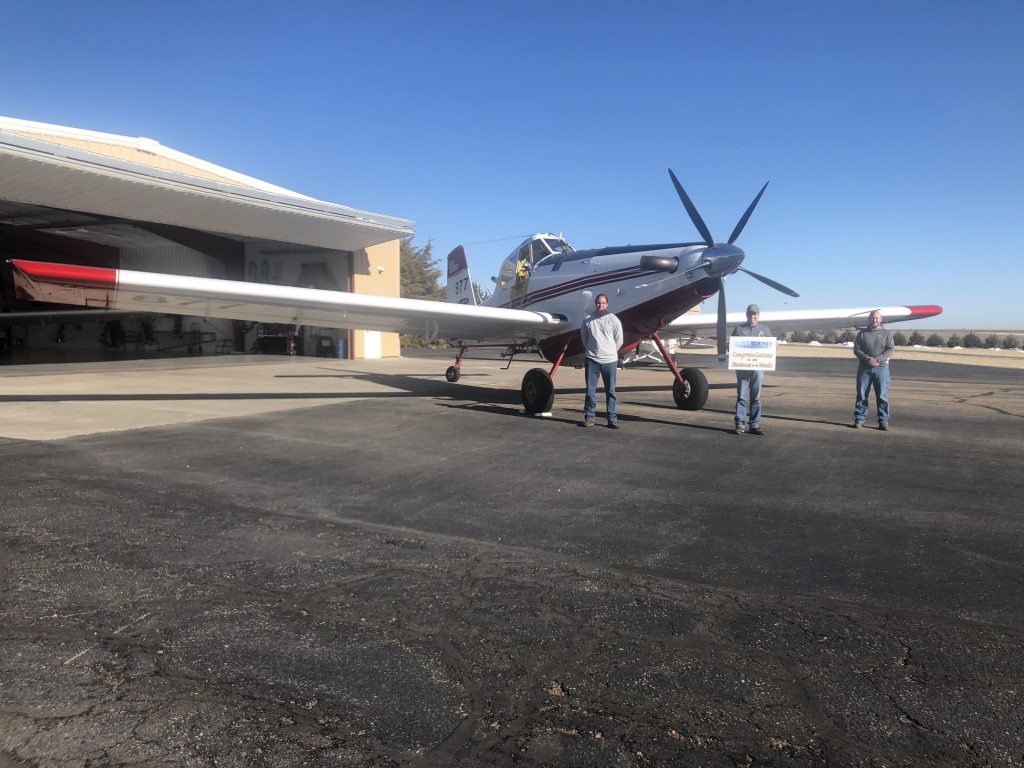 Darrel Mertens bought Benson Aviation Inc from Russ Benson in the spring of 1984.  At that time the business consisted of one hanger, two outbuildings and the runway as real property.  In 1984 there were four spray planes, two field pickups and two delivery trucks that were used to run the business along with two full time and two part time employees.  In the 1980's aerial application of crop protection products was quite simple from the amount of products, regulations and overall work schedules.  The inventory consisted of only thirteen products vs over one hundred that is on our product list today.  Aerial Applicators had to comply with far less regulation and regulatory agencies from the FAA and EPA to name a couple.  The work schedule was also greatly reduced with a typical work year in the 1980's that would span only eight months compared to a 12-month schedule today.  In 1988 Darrel changed the name to Aero Applicators Inc.  To date we employ eight full time and four part time employees.  We currently have five agricultural aircraft, three general aviation aircraft, numerous amounts of support equipment and have added several hangers and storage buildings to support our services.  In 1990 Darrel added a ground spraying unit that has since been sold to Aero Applicators agronomy manager Wes Pollart who manages the day to day work of the ground application services.  In 1994 Darrel and Aero Applicators became the dealer and area manager for AgroLiquid Fertilizer.  In 2014 Patrick Mertens started promoting Aero SEAT Inc which was incorporated as a subsidiary of Aero Applicators.  Aero SEAT heads up the government contracting side of the business that deals mainly in Aerial Fire Suppression.
Currently Aero Applicators services include ground and aerial custom application of crop protection products, AgroLiquid fertilizer, crop protection product sales, and seed sales.  To the general public Aero SEAT offers aerial charter services, flight lessons as well as several services for government entities.
Please help us in congratulating Aero Applicators as the Logan County Chamber Business of the Week.
*This Business of the Week Photo was taken before the Stay at Home Order was in place. Business of the Week will be suspended until the Stay at Home Order is lifted.
Broadway Wine & Spirits 3/16/2020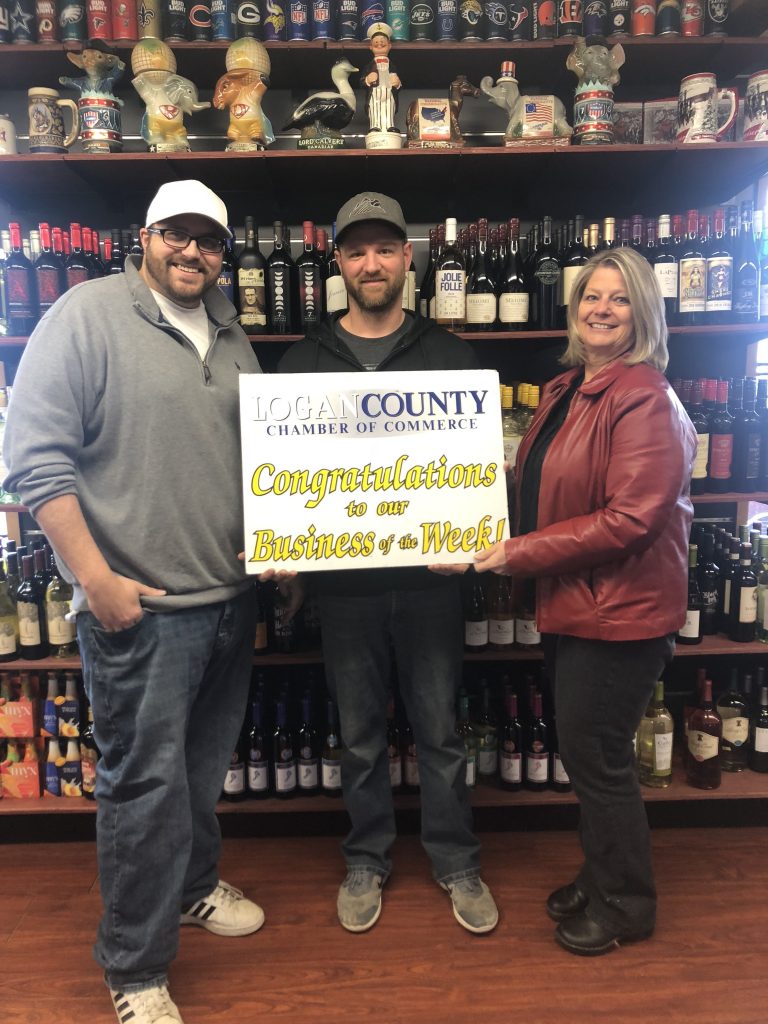 Broadway Wine & Spirits was started in 2015 by Clayton Unrein and Drew Schlup. They started out as two guys working together at a dead-end job that simply wanted more for themselves and their futures. They had toyed with several different ideas on what they could do in hopes of finding something they both felt comfortable taking on. Then, one beautiful Sunday, as they were grilling and having a few beers a conversation was sparked over the variety and availability of alcohol in Northeast Colorado. It was then that they took an interest in libations and providing Northeast Colorado with something they hadn't seen before. They started with the idea of extending hours to midnight everyday and opening on Sundays which at the time, no one else was doing. Then, they knew they wanted to do a Colorado room dedicated to those companies in Colorado trying to get their name out there. It was preceded by the idea of building their shelves around the customer base and offering a beer cave allowing them to open their coolers to more placement for microbrews. From there, Clayton and Drew began their journey into the liquor industry and the rest is history.
Broadway Wine & Spirits struggled their first few years like most businesses do but they just hit their 5th anniversary in February! Since they started their business, they have been able to expand their services such as their catering business and their newest venture the delivery business. This year they were also finally able to purchase, a large neon sign which they are hoping to have up by the end of April cumulating their place as a mainstay business in Sterling!
Broadway Wine & Spirits also pour large amounts of their profits back into the community by sponsoring numerous events and donating to charitable community programs. They also sponsor all sorts of individuals with a need for help and a dream of their own in all categories of life, such as mixed martial arts, racing events, derby's, consumer goods, etc.  and they take a lot of pride in this aspect of their business.
Broadway Wine & Spirits runs their shop like family and family will always come first. They aren't in the business to make money; they are in it to provide themselves and their employees with better opportunities to take care of their families.
Best Western Sundowner 3/9/2020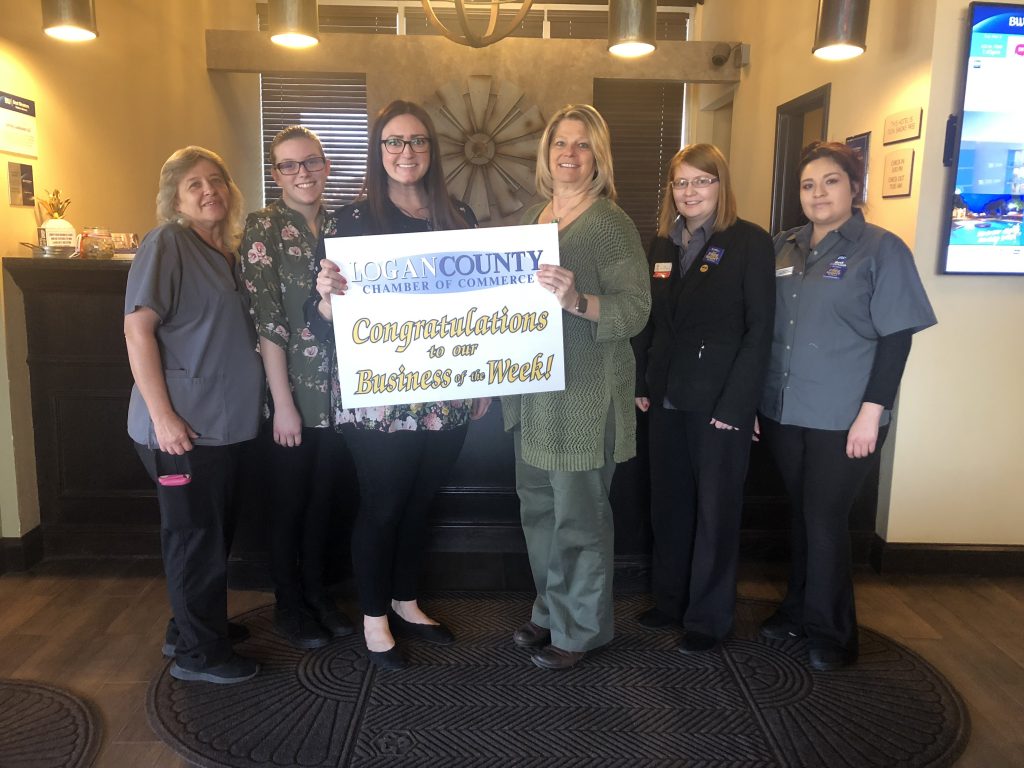 In 1999 TWC Management purchased property that was built in the 1970's and began operating the Best Western Sundowner. The property was originally built with 28 rooms, and in the early 2000's the company expanded the hotel adding 30 additional rooms. TWC Management wanted to invest in smaller communities in eastern Colorado and this was a great opportunity to move into the Colorado market.
In 2019 they celebrated their 20-year anniversary of owning the property.  In addition to adding 30 rooms in the early 2000's, they were renovated after the flood in 2013.
They have consistently earned Chairman Awards from Best Western Hotel Group by earning some of the highest quality assurance scores in their brand.
Their hotel is great for all types of guests!  The property features a one-acre park, indoor and outdoor pools, TV lounge, and enhanced breakfast.  Plus, they offer various styles of rooms, including King Conference, Hot Tub and Family rooms that sleep up to six guests.
Pam Werner Edward Jones 3/2/2020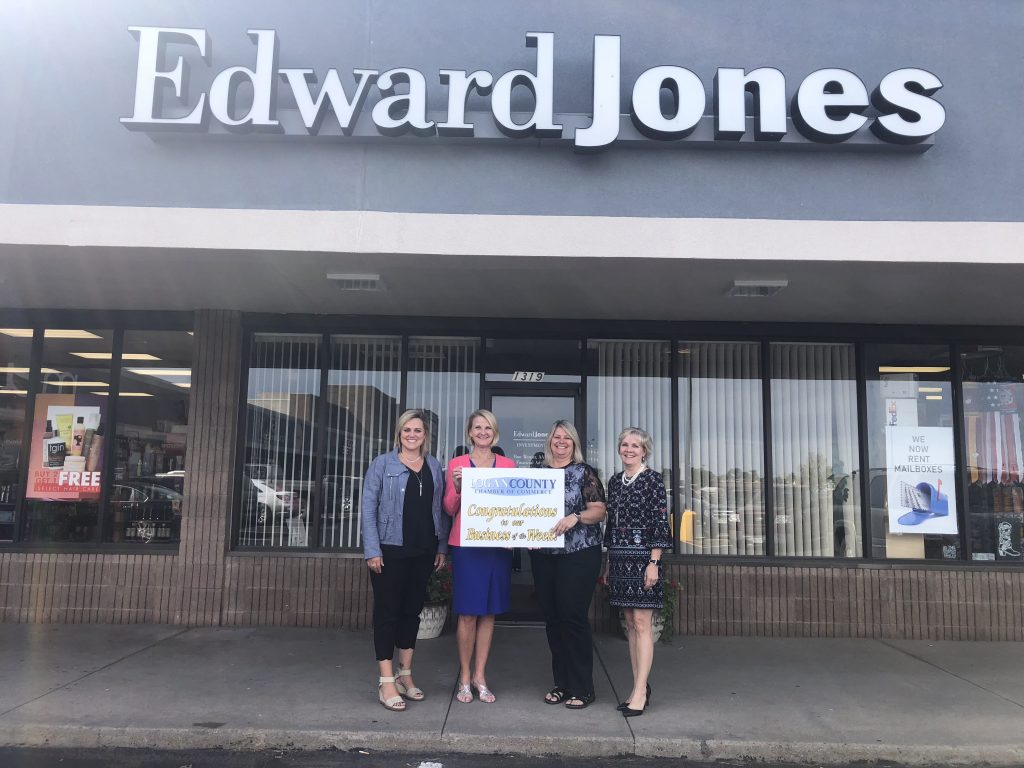 In January 2000 the Edward Jones Branch office of Pam Werner opened at 1319 West Main Street, Sterling. While working as a Registered Dietitian Pam began investing with her dear friend & Edward Jones Financial Advisor, Tom Ritzdorf. It was during this time she discovered her keen interest in personal finance.  Pam left her job in health care in 1999, being recruited by Tom.  Pam says, "I had always been a goal setter for myself and others.  My biggest desire was to help people change their lives for the better and to make a difference.  So in 1999 I thoroughly researched the opportunities and was fortunate enough to be trained and hired by a company that always puts the client first, Edward Jones." Pam Werner started as an Edward Jones Financial Advisor in 2000. Connie Schott, Senior Branch Office Administrator joined her in April 2000 and Amanda Steele, Senior Branch Office Administrator has been with the branch since January 2013.
Beginning as a Financial Advisor in January 2000, Pam became a limited partner with the firm in 2003.  The Werner branch office ranks in the top 3% of the Firm.  Out of the Firm's more than 18,500 advisors Pam's branch has been ranked in the top 400, qualifying Pam for the Edward Jones Managing Partner's Conference the last three years.  At this prestigious conference top advisors gather for three days to discuss best practices and how to improve service to clients. Every year since 2014 Pam has also been invited & attended the Barron's Top 100 Women's Advisor Summit.  And in 2015 Pam was nominated by her peers to receive the Edward Jones Spirit of Caring Award which recognizes financial advisors who exemplify the values, spirit and culture of giving back.
Their team's goal for every family they work with is to gather and organize their wealth, help them grow and protect it and assist them with transferring it to the ones they love and cherish the most. They use an established process where they meet face to face with their clients and their families and work to build personalized strategies to help them achieve their goals and partner with them throughout their lives to keep them on track to reach their goals. Their focus areas include: Retirement Income & Savings Strategies; Estate and Legacy Planning;  Insurance and Annuities; Charitable Giving and Education Savings.
Their entire branch team; Pam, Connie and Amanda are committed to this community and the wonderful hard working people that live here.  Volunteering and giving back are important to them and they are involved in the following community organizations: The Alzheimer's Association; American Cancer Society Relay for Life; each of their churches; Logan County Economic Development; Rotary; Sterling Community Fund and Sterling Regional MedCenter board of trustees. Pam has held numerous leadership roles over the years. Currently Connie holds a Regional leadership role as Culture of Compliance BOA and Amanda is the Region Events Coordinator.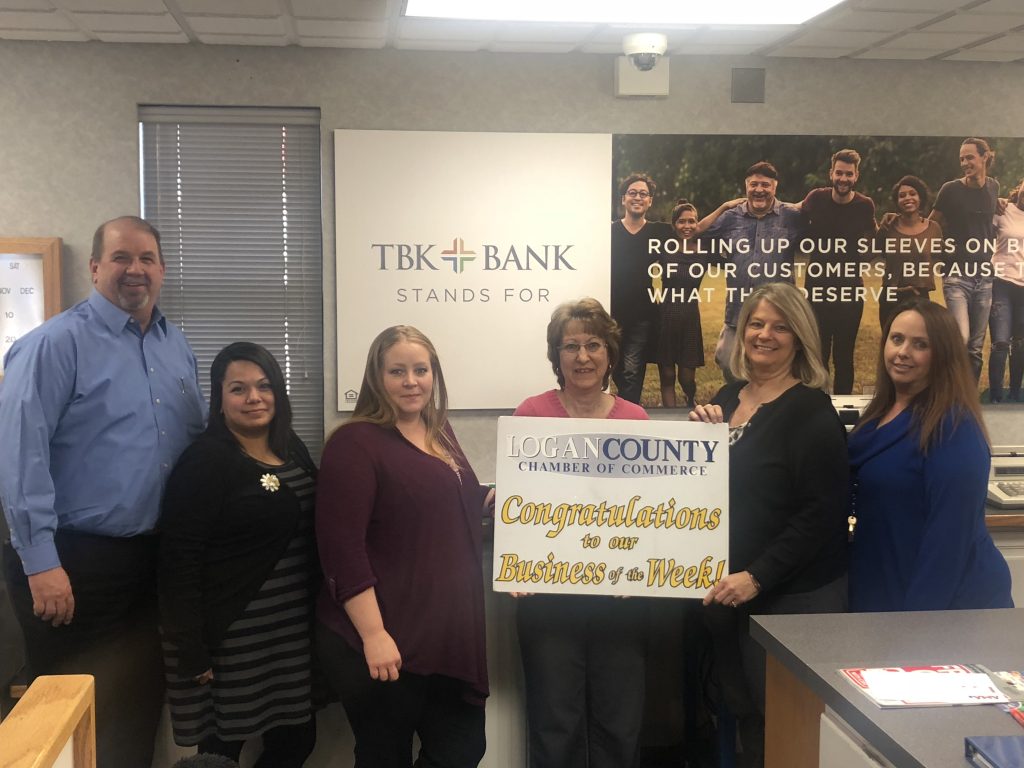 TBK Bank's mission is more than money because they believe in helping the people and businesses in the community succeed.  It's communities like Sterling, CO that inspire them to step outside the bank walls and help their neighbors where they can.  What started from humble beginnings has grown into a bank with small-town values and the resources to make a difference. TBK Stands for rolling up their sleeves on behalf of their customers because that's what they deserve.  They treat every customer like their friends and neighbors for one simple reason, because that's exactly who they are.  So, when it's time to go the extra mile, they don't hesitate.  Stop in today to see their Sterling team pictured above: Joe Brewer, Bernadette Padilla, Miranda Whited, Patty Vandenbark, and Caron Champ
TBK Bank is a full service community bank offering personal, business and commercial banking products as well as 24/7 access to your money with the TBK Bank Mobile App. With team members ready to answer your everyday questions, to the latest technology that makes banking more convenient, TBK Bank is helping the people and businesses in our communities succeed. They are committed to Colorado with 37 branch locations, 3 loan production offices, over 350 team members that volunteered over 1,500 hours in 2019 to help our Colorado communities.
Please help us in congratulating TBK as the Logan County Chamber's Business of the Week!
Lorenzo Apothecary 2/17/2020
David Lorenzo started Lorenzo Apothecary in October 2017. David wanted to provide a pharmacy that was there for the customer.  He wanted to provide service to the customer without hassle and service that was friendly and without a long wait.  He also wanted to provide other options for customers than what is currently available such as bioidentical hormonal compounds.  David enjoys being able to greet the customers as they enter the store and offering the best service possible and he wants to provide customers with the best possible price in town.
David was born and raised in Sterling.  He became a registered pharmacist in 1994.  He is proud to have had this opportunity to have the vision, design and open this pharmacy and to be the first accredited UCAP / NABP compounding pharmacy in northeast Colorado.  Their pharmacy is set apart from the other local pharmacies because of their USP800, PCCA-accredited compounding labs.  They are the only compounding pharmacy in the northeast Colorado area that offer nonsterile hazardous and nonsterile compounds.
Lorenzo Apothecary doesn't only focus on the usual over-the-counter medicinal items, they also offer:
Jelly Belly jelly beans. They offer over 20 varieties of jelly beans that you can purchase in bulk, in single flavors or mix.
Chukar Cherries from Washington state that includes nuts and cherries, salsa, pie filling, and desert sauces.
Jelly Cat stuffed animals that are plush and huggable.
L'Occitane creams and lotions from France.
Paddy Wax soy candles that have unique scents.
Locally handmade goat soaps.
Functional Remedies CBD tinctures, capsules, and salves. They are also able to make gummies and dog biscuits with the CBD oil.
Medi compression stockings and garments that are measured to order.
Plantar fasciitis stockings.
Wish Garden herbal supplements.
Doterra essential oils.
Hormonal kits
Free delivery of in-town prescriptions and only $1 for out-of-town deliveries to Fleming, Haxtun, Holyoke, Yuma, Otis, and Akron.
Their staff is friendly and eager to help in any way they can.  If there is an item that is not currently available, they can usually get it by the next day.  Even if there are items they do not usually carry, they will be happy to order it for the customer.
It has truly been exciting to see how much their store has grown just in the two-plus years that they have been open.  They have been able to add another pharmacist and support staff because of this growth, as well as the staff that have been with them since day one.
They want to thank their customers for their support in helping them on their continuing growth. Please help the Logan County Chamber of Commerce in congratulating Lorenzo Apothecary as our Business of the Week!
Henry Stahla Homes 2/10/2020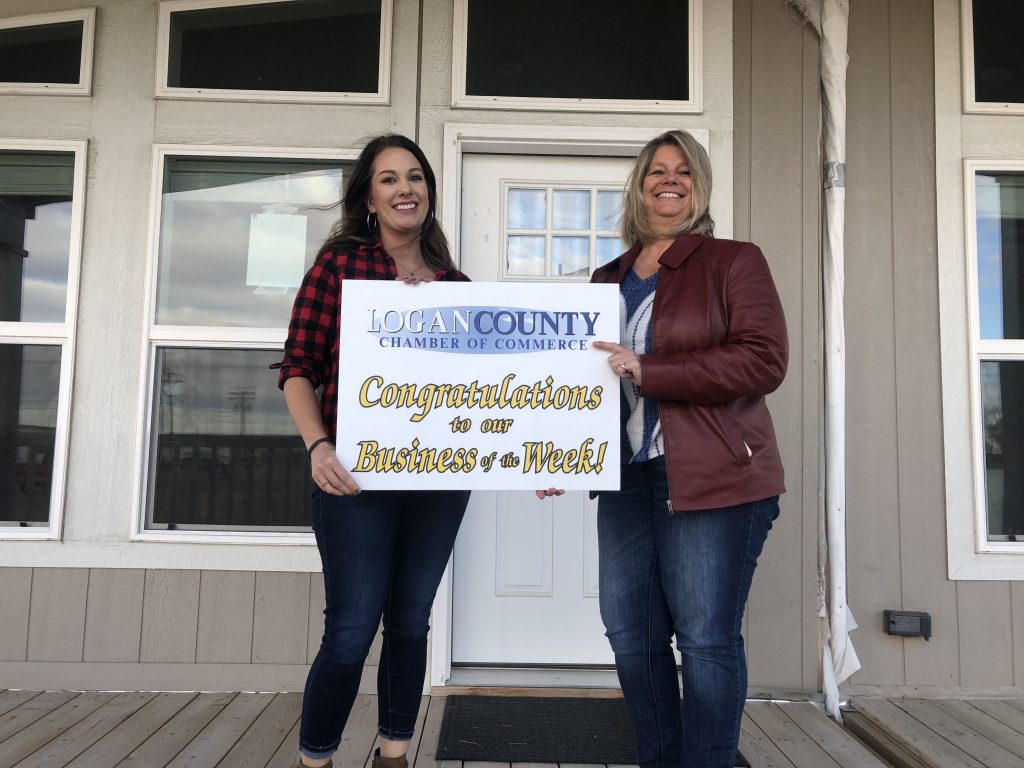 Henry Stahla Homes opened in Kimball, NE in 1949 by Henry Stahla who owned and operated the local grocery store.  A man dropped off 3 new single wide mobile homes to store during a winter storm and during the oil boom in Kimball, NE, Henry got an offer for all three homes, so he called the owner and sold the three homes.  Henry called the manufacturer of the homes and asked for 3 more to be delivered and the rest is history.  Dar Gardner, Henry's daughter bought the business from Henry in 1992 and opened the Sterling, CO location in 1994.  Henry Stahla Homes sells IRC modular homes as well as HUD mobile homes.  They have a 3rd location in Scottsbluff, NE that opened in 2013 and they proudly serve Colorado, Nebraska and Wyoming.  Stahla's is a 3rd generation business that strives to satisfy their homeowners, they do not want to be the biggest company they want to be the best.
TLC Automotive & Towing 1/27/2020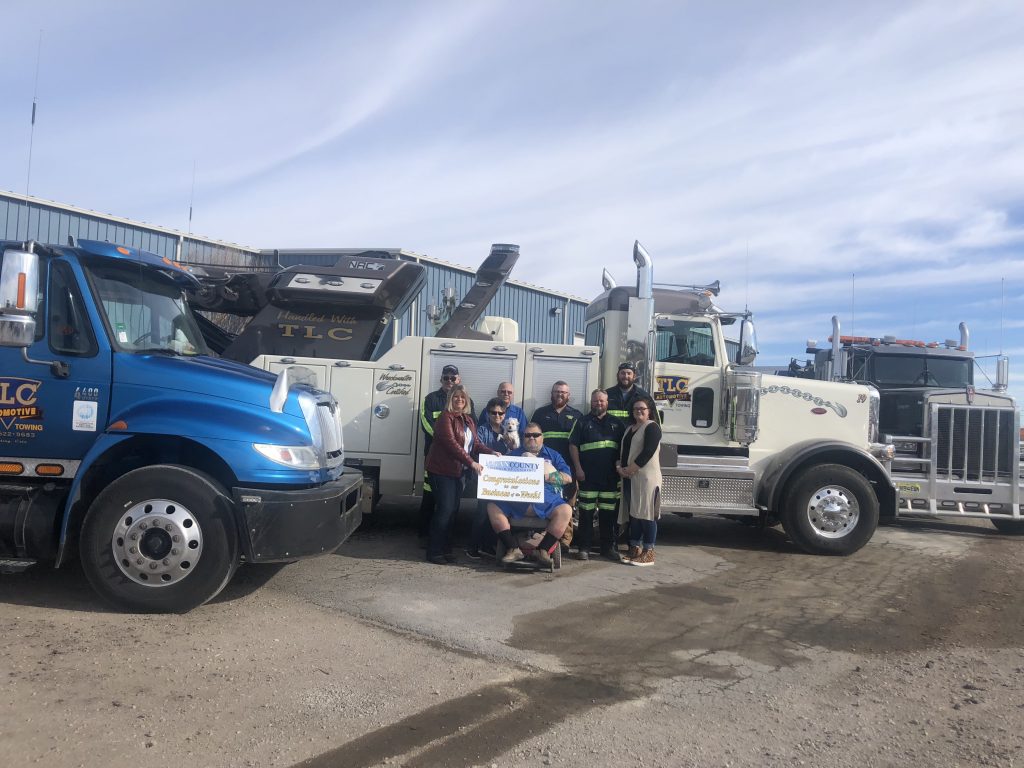 TLC Automotive & Towing was started by James and Christina Conour in November of 1983. At the time James felt like there was no one hiring mechanics and he saw an opportunity to open his own business. They hired their first mechanic after 15 years in business and another 2 in 2000, they have now grown to 8 employees. They bought their first tow truck in 1984. TLC Automotive & Towing moved to their current location in 2002, where they can work on anything from a Volkswagen to a Semi, RV's, and trailers. They now have 8 employees, 5 heavy duty tow trucks, 2 medium, 2 rollbacks, and a service truck. They offer aircushion recovery for trucks and are also a U-Haul Dealer.
Sonnenberg Agency 1/20/2020
Sonnenberg Agency, LLC was founded in 1983 by Maynard Sonnenberg. Maynard realized in the early 1980's that there was a need for specialized crop insurance solutions, and he had relevant experience that would translate well into selling and marketing a new crop insurance program. Then in 1999, Maynard, Tim and Sam found that many prospective clients were not happy with the service they were receiving from their current property & casualty companies. It was clear that Sonnenberg Agency, LLC could provide trusted risk management with insurance-based solutions. So, for the first 16 years, Sonnenberg Agency, LLC marketed and sold only crop insurance. Contracts were secured in 1999 with two property & casualty insurance companies and the expansion began.
In 2018, they celebrated our 35th Anniversary! Today, Sonnenberg Agency, LLC is owned by Tim Sonnenberg, Sam Sonnenberg, Jared Sonnenberg, Darin Wecker and Travis Davis. As they begin 2020, their agency team is 10 insurance professionals! In addition to Tim, Sam, Darin, Travis and Jared, Sonnenberg Agency, LLC is proud to include Coree Miller, Linda Wilson, Lindsey Martin (Strasburg office), Laurie Nitchman (Strasburg office) and Renee Little (Grand Junction office)!
Over the years the businesses has grown and expanded in many ways. In 1999, their primary office location in Sterling, CO was appointed with their first property & casualty company contracts, and since 1999, a second office location was opened in Strasburg, Colorado in September 2011, and in December of 2019, our third office location – a satellite office in Grand Junction, CO was opened! With 3 office locations, we are proud to offer trusted insurance solutions to all of Colorado and Western Nebraska.
The Strasburg office is located in a building that was remodeled in 2016 and the Sterling office finished a complete remodel in March of 2014. It is often said that "people buy from people", and they have found this to be unequivocally true. Their agency is proud of the tradition and longevity as the trusted insurance partner for their many valued clients in Colorado and Nebraska.
Since 1986, Sonnenberg Agency, LLC has received more than 30 awards and recognitions for work in the insurance industry on both the crop insurance side and the property & casualty side. This is a tribute to the founder, Maynard Sonnenberg's long-standing belief that "Our clients have the utmost confidence in us because of the history of exceptional customer service and in-depth understanding of the insurance industry."
Their agency offers home & auto insurance (includes motorcycles/atv's/campers/boats and renters), farm & ranch insurance, commercial insurance, crop insurance, stand-alone sprinkler insurance and livestock insurance. They utilize a push notification system for their crop insurance clients and many clients communicate with us by email. Our website, www.sonnenbergagency.com and Facebook page, Sonnenberg Agency, LLC are great ways to communicate with our many valued clients!
Tim, Sam, Jared, Darin, Travis, Coree, Linda, Lindsey, Laurie and Renee want to give a big "Thank You!" to the Logan County Chamber of Commerce for selecting Sonnenberg Agency, LLC as the Business of the Week!
Barnes Pharmacy 1/13/2020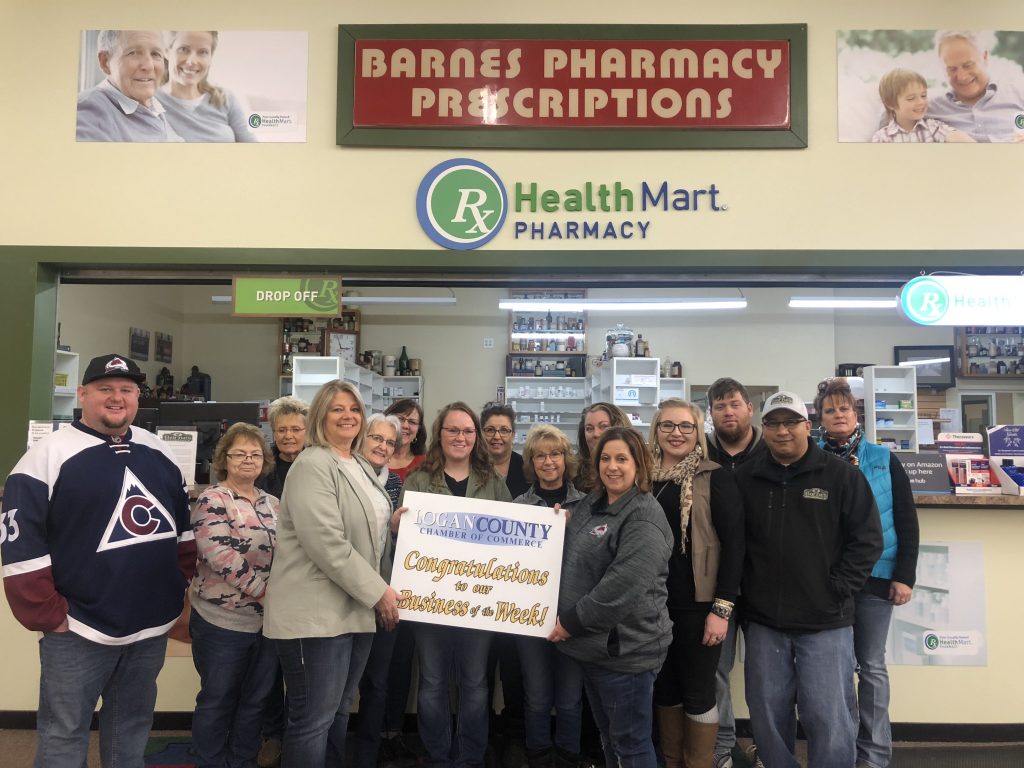 Barnes Pharmacy was started in October 1972 when Ron Lorenzo purchased the pharmacy from Bob Barnes. It was originally located at 210 Main Street. In 1998, Ron's oldest daughter Jenae Lorenzo Totten graduated from the University of Colorado School of Pharmacy and returned to Sterling to work in her father's business. Barnes Pharmacy moved to its current location at 422 Main St in February of 2005.
On December 4, 2010 Jenae purchased Barnes Pharmacy and Barb's Main Street Gifts. Barnes Pharmacy and Barb's are well known for their unique selection of gifts, home decor, women's and children's clothing, jewelry, and gourmet foods. In 2016, in an effort to improve selection and offer more diversity, Barnes Pharmacy began renting space to local vendors. They currently lease space to nine vendors.
Jenae's passion has always been working with long term care facilities and their staff. Jenae participates in reviewing medication charts, in pain and psychotropic committee reviews and providing in-services and education to the facilities. That has led to Barnes's new custom medication minder packaging and service. Barnes provides specialty nursing home and medication minder services to patients in Sterling, Holyoke, Haxtun, Akron, Otis, Yuma, and Brush offering 6 day a week delivery.
Barnes Pharmacy is one of the only Medicare Accredited Pharmacies in Northeast Colorado which allows them to bill Medicare, Medicaid, and private insurance for durable medical equipment, diabetic shoes, wound and ostomy supplies, breast prosthesis and other daily living aids.
In keeping up with new trends in healthcare, Barnes Pharmacy is in its second year offering strep throat and flu cultures. There is no need for an appointment and these services are often less expensive than insurance copays. If a patient test is positive a prescription is issued on site with no need to see a doctor. Barnes is now offering Urinary Tract Screening Tests with a positive result allowing for treatment. They also offer hormone and cortisol testing with results and prescription issued by their physician. They look forward to expanding their point of care testing services in 2020, allowing for easy, quick, inexpensive access to health care.
The newest addition to their services includes the Hydration Station which provides IV fluids packed with vitamins and minerals to benefit skin, overall health, weight loss, hydration, anti-aging effects, immunity, energy and recovery. They are also able to provide certain additives for nausea. They offer membership pricing as well. Barnes Pharmacy offers Vitamin B12 and Super B complex injections as well as flu, hepatitis, tetanus, shingles, pneumonia and other vaccines. Most vaccines are in stock with no appointment needed and they can bill most insurances.
Barnes Pharmacy has been compounding prescriptions and medication since 1972. They provide hormone replacement therapy, pain medication, and certain children and pet medication that is not commercially available. Their newest addition is customized face cream. It is made to meet each patient's needs based on a survey and meeting with a pharmacist. A cream is then made in house for twice daily use, including eye cream to treat wrinkles, aging, acne, sunspots, dry skin or any other skin ailment. All creams are gluten, fragrance, dye, paraben and preservative free made with pharmaceutical grade ingredients.
Jenae and her staff, most of whom have had 15-20 years of service with her, have the philosophy of providing exceptional customer service and offering expanded clinical and unique services to help a patient's overall health. Their goal is to be a focal point for prescription services and compounding as well as providing many point-of-care testing and treatment services along with alternative wellness prevention modalities such as IV hydration, essential oils, CBD products and the Bemer Blanket.
Barnes Pharmacy and Barb's Main Street Gifts have many exciting projects planned for 2020. Like their Facebook page Barb's Main Street Gifts and Barnes Pharmacy. Their hours of operation are Monday-Friday 9-6 and Saturday Pharmacy hours are 9-2 with the Gift shop open from 9-5. They can be reached at 521-0190. Jenae and her staff will be happy to answer any questions about their services or stop in and see the Hydration Station and gift shop to experience it firsthand!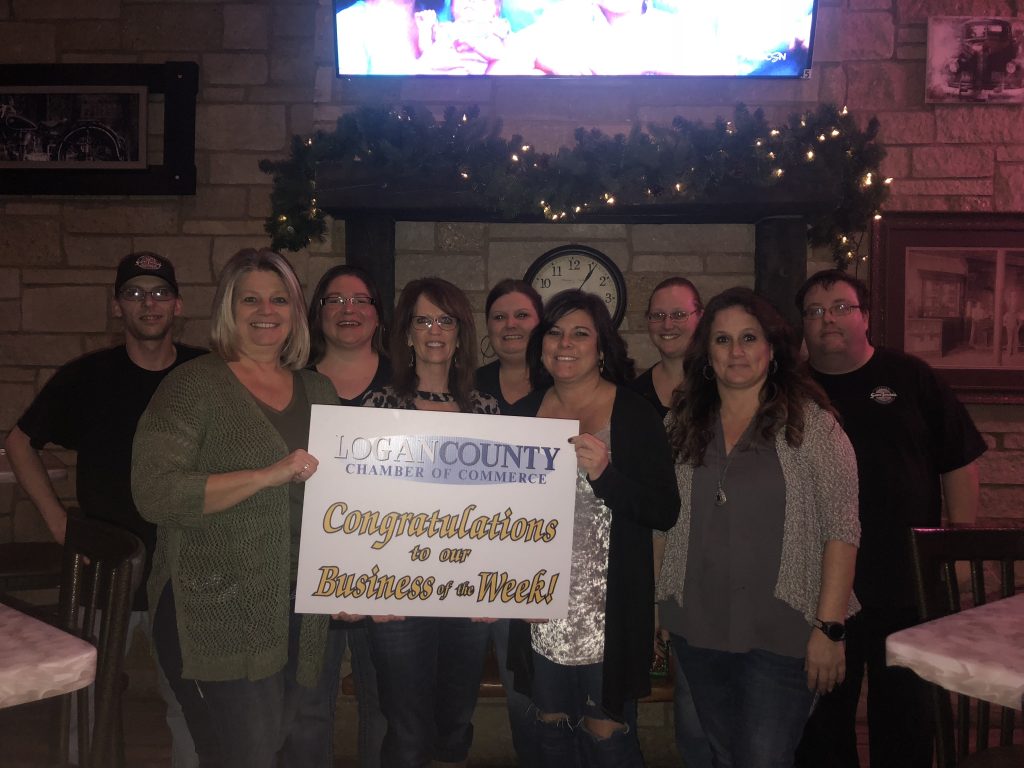 Sam & Louie's Italian Restaurant opened in Sterling in May of 2016 by Mike and Denise Shaefer. The Shaefer's purchased the building on Main Street and were looking to rent it out for increased business in the old downtown area. The Sam and Louie's franchise came to Sterling upon an invitation from Economic Development for a tasting which Mike and Denise attended and were impressed by.
The franchise is family owned; the menu options available were broad scoped with a focus on Italian cuisine. As well as the fact that community comments over the years indicated a desire for more Italian options and the need for an additional restaurant contributing to the economic development of Sterling.
It was the Shaefer's hope that someone would step forward with the intent of buying the franchise and opening a Sam and Louie's in their building on main, utilizing the awesome location and size of the building. They did not want this opportunity to pass Sterling by, so after many conversations with the franchise family the Shaefer's decided to open the restaurant.
Their objective is to provide an exciting and fun atmosphere where families can celebrate, meet with business associates, or connect with friends. They have catering available, both off site and on site in the party room. Daily food and drink specials are available giving guests a taste of what they offer.
As a part of the business community, they strive to support other businesses and groups with fundraising efforts and monetary contributions throughout the year.
The Sam & Louie's guests are an extended part of the Shaefer family, they love to see you, and are proud to be part of your relaxation and life celebrations!
Rodine Communications Inc 12/30/19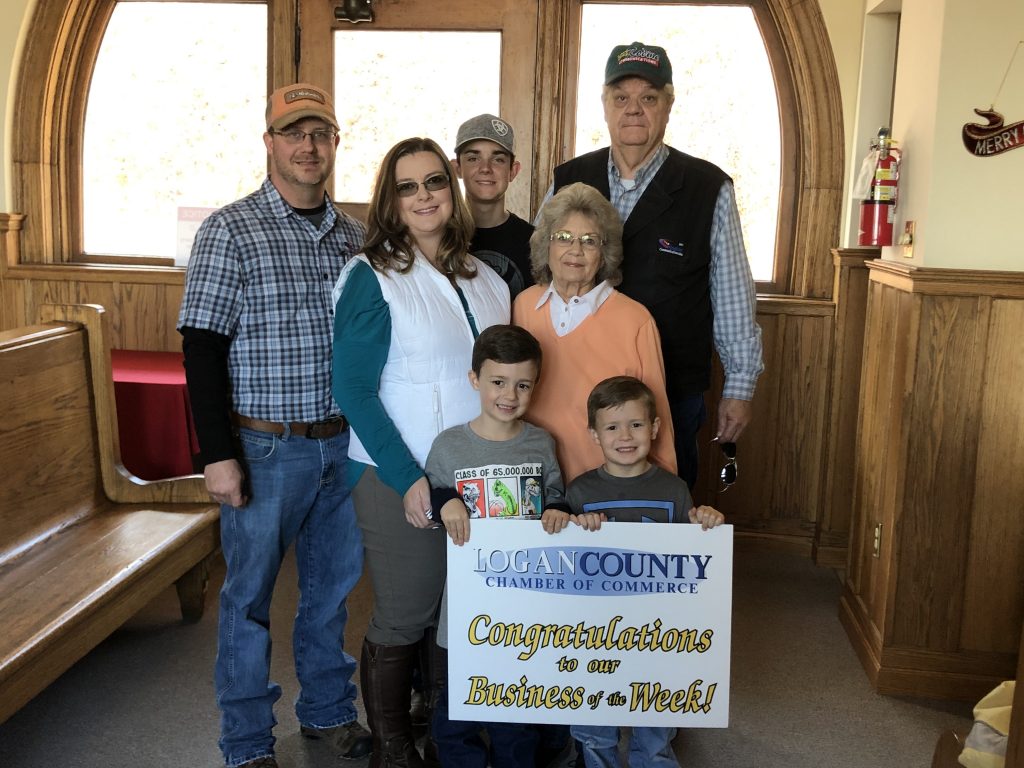 Rodine Communications Inc. was started in Dec. of 1989 by Tom & Kathy Rodine. They started Rodine Communications Inc. after Tom was laid-off from AT&T, with his ties to the community and a desire to stay in the community Tom felt that his experience in telecommunications could be utilized best in this community. Rodine Communications started as a telephone repair shop, and after several years the business grew to installing On-Premise telephone systems, Structured Cabling and Fiber Optics. In 1999 his son Mark started with Rodine Communications Inc. and in 2013 Marks wife Jennifer joined the business as well. The products and services that Rodine Communications Inc. specializes in installing and repairing On-Premise or Cloud-Based Telephones Systems, VoIP, Video Surveillance Cameras, Routers, Ethernet Switches, WiFi, Fiber Optics, Ethernet Cabling and Google Nest Products. Please help us in Congratulating Rodine Communications Inc. as Logan County Chambers Business of the Week!
Media Logic Radio 12/23/19
Wayne Johnson started Media Logic Radio in 2002 due to his passion for radio broadcasting and how radio can help customers promote their business and improve their bottom line. Media Logic started in 2002 with an AM and an FM radio station. In 2003 KFTM in Fort Morgan was added and they operated with 3 stations for several years. In 2007 KSRX (Bob-FM) was built and has dominated the radio landscape since then. The opportunity to buy out Arnold Broadcasting came in 2013 and they continue to operate 7 radio stations and 2 FM translators in Northeast Colorado and Southwest Nebraska. Media Logic specializes in large promotional events. They do 3 major events per year, including the Bobstock Music Festival, which they're preparing for their 13th year.  They've seen Bobstock grow from a few hundred people per day to thousands of people each day of the event. They also are currently involved in their 8th Christmas Capital of the Plains event in Fort Morgan. That event has grown over the years and continues to provide the surrounding areas with fun activities for families, many free of charge, during the holiday season. Their final event it the Sportsman's Experience. They are preparing for their 3rd annual event at the Logan County Fairgrounds. This event is designed for the outdoor enthusiast and will take place April 24th and 25th, 2020.  These events would not be possible if they didn't have outstanding relationships with their event sponsors. Media Logic also specializes in sports broadcasting. They have 5 sports directors who cover various teams throughout the different seasons. Their plan is to always cover local school sports from the very beginning of a season all the way through the post season. Over the years they've won numerous sports broadcasting awards from the Colorado Broadcasters Association. Media Logic has a very experienced staff that is willing and excited to work with area businesses to help them with their overall advertising and promotional campaigns. Wayne's daughters Lindsey and Melissa came back after college to help run the family business and continue to assist in the everyday operation of Media Logic. They operate all seven stations with a staff of 13 and have employees who are dedicated to helping Media Logic advance the mission of helping their advertisers as well as their listeners.
Carol's Furniture and Sleep Shop 12/9/19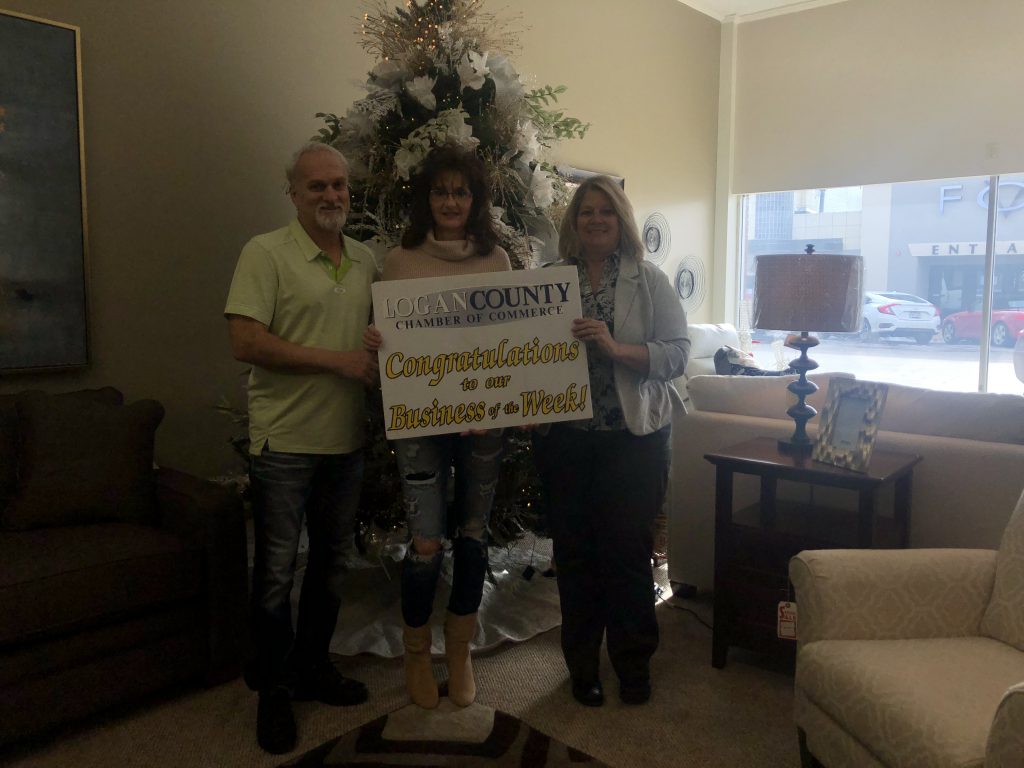 In 1975 Carol and Art Propp opened Carol's Chair Boutique. They offered chairs of different styles, mirrors, and wall décor. A few years later they expanded and remodeled the 108 Main St location. Then they started selling loveseats and sofas. In 1988 they purchased the coast to coast building and opened a sleep shot. They hired Lori and she ran the sleep shop. In 1999 Lori's husband, Jay, started working after Lori's Dad, Art, passed away. Jay and Lori became owners in 2003 when Lori's mom, Carol, passed away. In 2011 they expanded and remodeled The Rock N Roller Rink and moved their business to 322 Poplar street. They then became a LAZ-Boy Comfort Studio and Simmons Beauty Rest Sleep Shop Gallery. They have been in business for 43 years and are family owned and operated. They offer a whole line of LAZ-Boy furniture, Simmons Beauty Rest Mattresses, and Best Home Furnishings. They offer financing, free in town delivery, and custom special orders. They are the largest LAZ-Boy dealer in Northeast Colorado. They are happy to serve the community as a 2nd generation business owner. Please help us in congratulating Carol's Furniture and Sleep Shop as Logan County Chambers Business of the Week!
Holiday Inn Express 11/25/19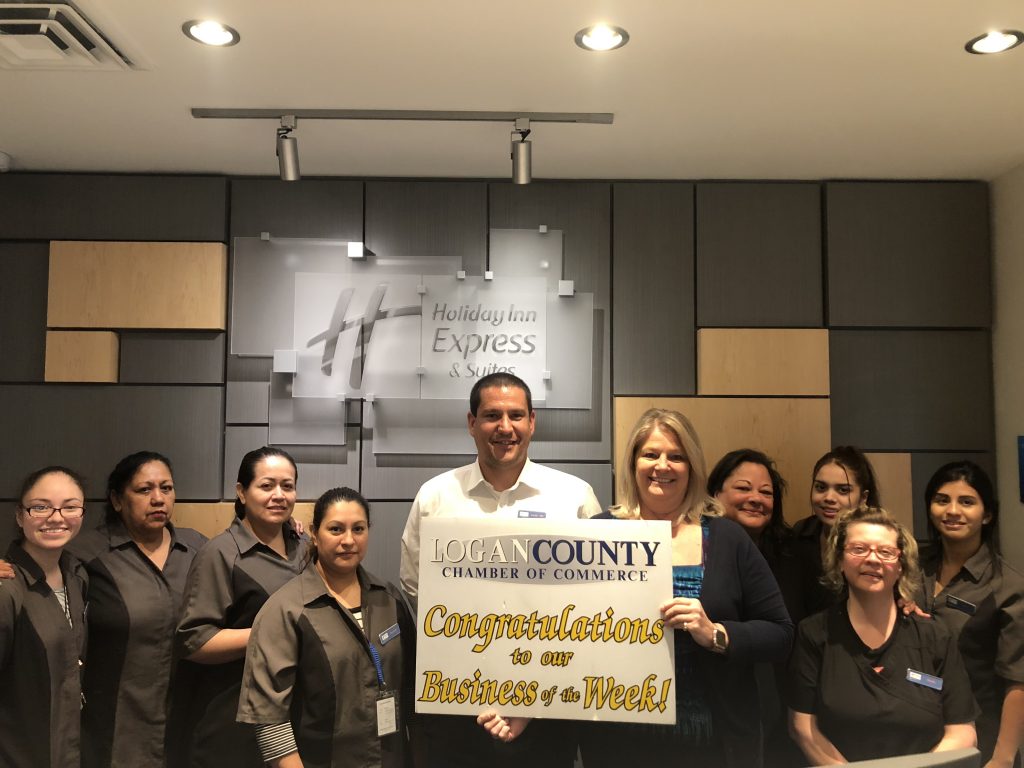 High Plains Hospitality opened the Holiday Inn Express & Suites in June of 2017 due to a need that Northeastern Colorado had for quality lodging. Since opening they have been recognized by IGH for outstanding customer service and loyalty. They have also been recognized by many 3rd party franchises for excellent guest reviews. They provide travelers with quality lodging in a pleasant, clear, and comfortable environment. They also have a top of the line fitness center, pool, and hot tub for guests to enjoy. Please help us in congratulating Holiday Inn Express & Suites as Logan County Chamber's Business of the Week!
Kimberly A. Suter D.D.S. P.C. 11/18/19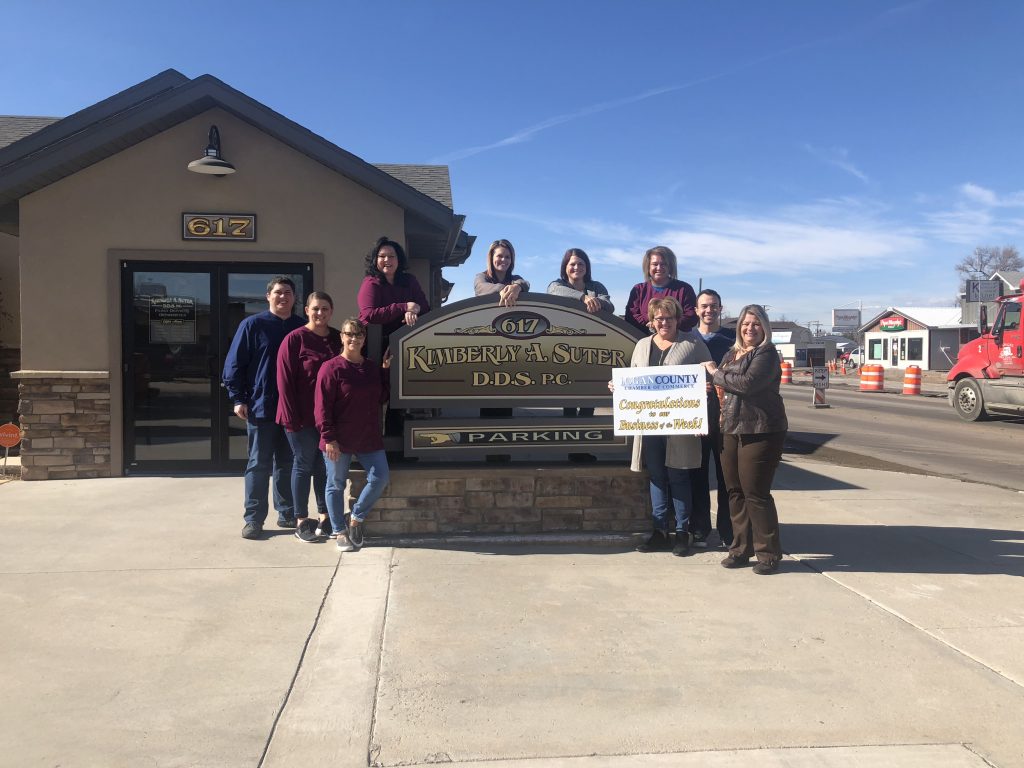 Kimberly A. Suter D.D.S. was started in in 1994 by Kimberly A. Suter.  She started the business to take care of the community's dental needs as her own boss.  Over the years she has expanded from one operatory to eight operatories. She also started with 2 employees and has grown to nine. Dr. Suter has continued her education with hundreds of hours in orthodontics, implants, and general dentistry. Kimberly A. Suter D.D.S. specializes in general dentistry, pediatrics, orthodontics, geriatrics, implantology, crown and bridge, dentures and endodontics. Please help us in congratulating Kimberly A Suter D.D.S. P.C. on being the Logan County Chamber Business of the Week.
E.B. Maxi Storage 11/11/19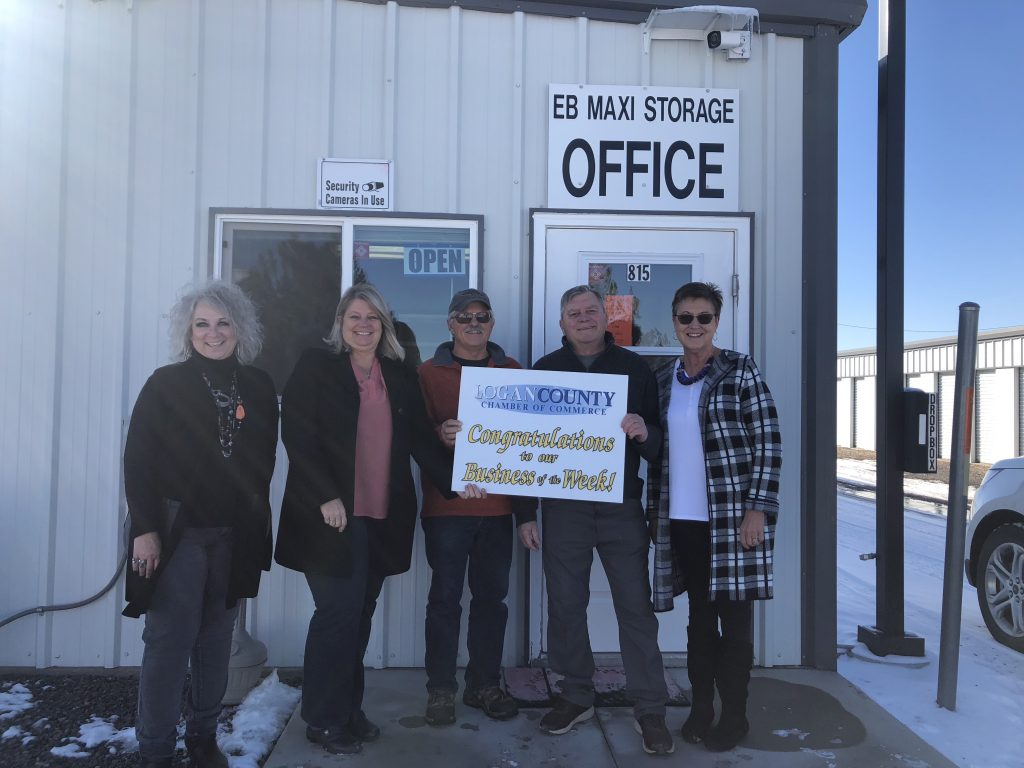 E.B. Maxi Storage located at 815 West Broadway is locally owned and operated and began in 1993 based on demand for storage in the Sterling and surrounding area.  The first phase of construction began on the far south section of the property also known as Building A and included 30' x 40' and 15' x 40' units.  The following phases took place over the next few years and concluded with 6 building structures offering over 350 units in 11 different sizes totaling over 76,000 square ft.
With a desire to offer safe, convenient and hassle-free self-storage, numerous amenities were implemented in the design and structure including thermal ceiling blankets, state of the art internal locking systems and maximum ceiling heights with roll-up doors.  Additional features included exceptionally wide and well lit alleys for easy maneuvering while loading and unloading.  Eventually the potential need for increased tenant and property safety features was identified which led to the installation of security cameras throughout the facility and additional lighting at the entrance.
The office of E.B. Maxi Storage is open Monday, Tuesday, Thursday and Friday 8 to 5.  We can be reached at (970) 521-0312.  The owners and staff find it a pleasure to serve Logan County and beyond with their storage needs.
Country Creations 11/4/19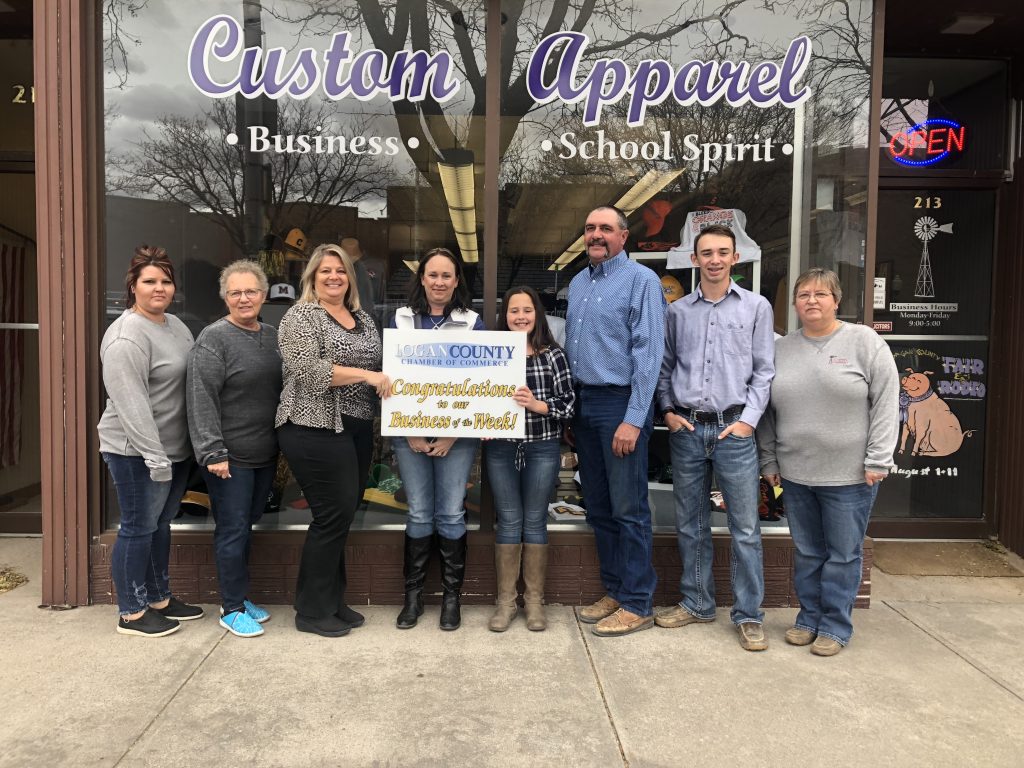 Country Creations was started in 2014 by Melinda Hutt so she could have a flexible job to spend as much time as possible with her kids and help on her family farm. She started the business in the basement of her home, and in 2015 it was moved to a farmhouse just outside of Sterling. Country Creations continued to grow and in November of 2017 they moved to their present location at 213 W Main St. They specialize in embroidery and heat transfers. They also offer rhinestones and glitter along with foil to make products bling. Please help us in congratulating Country Creations on being the Logan County Chambers Business of the Week!
Bank of Colorado 10/28/19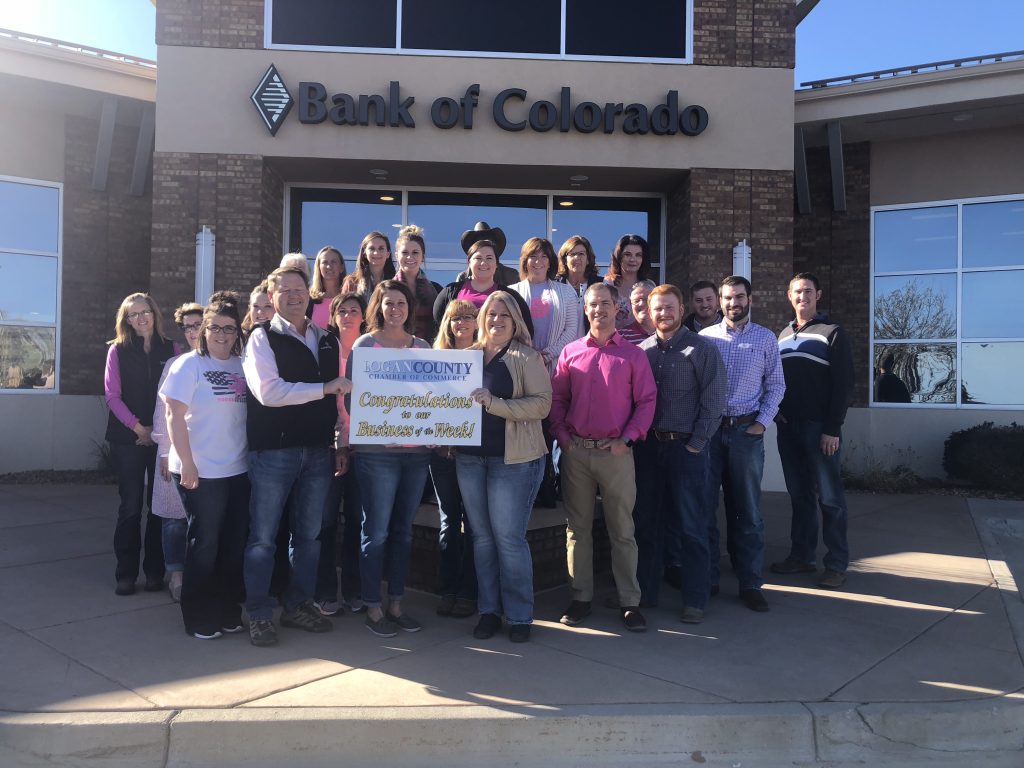 Bank of Colorado moved to the Sterling market in 1995 with the purchase of the World Savings branch. The Sterling branch opened with 6 employees and has grown to 33 employees today.  The branch outgrew its initial location and moved into its current location September 2012. The Bank is owned by the Dinsdale family with banking roots that began in 1938 in Palmer Nebraska, a town of 420 people.  The Dinsdale family still has deep roots in agriculture and has continued to diversify and grow their business footprint.  Please help us in congratulating Bank of Colorado as our Business of the Week!
Sterling Travel Agency - Travel Savers 10/21/19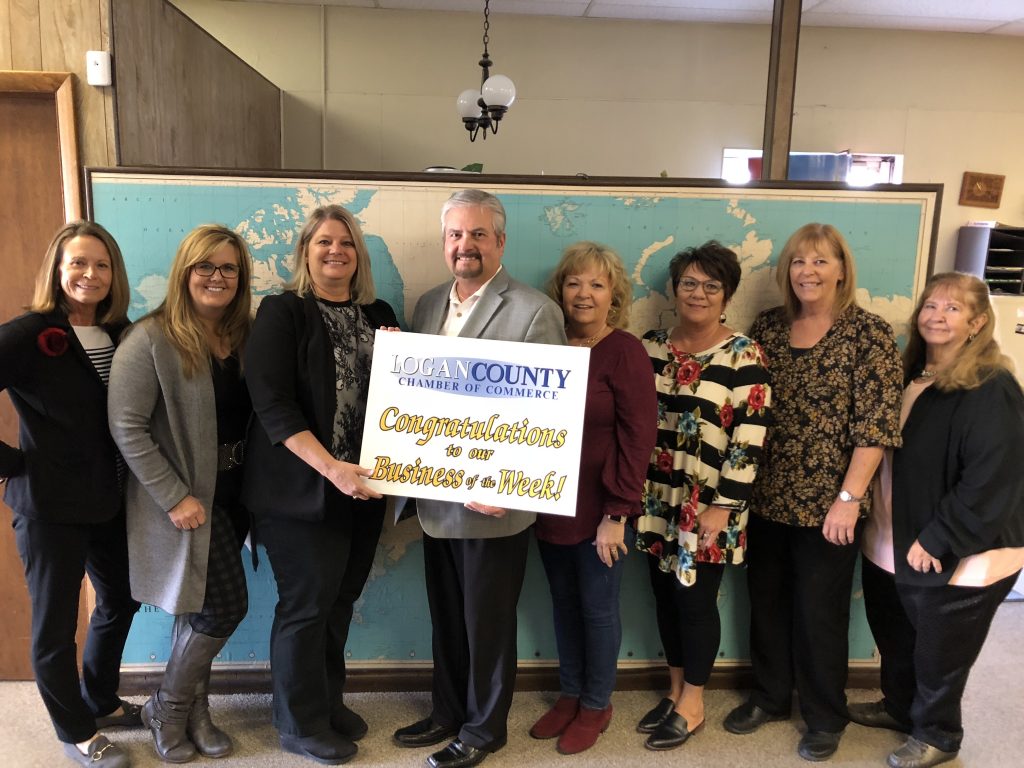 Sterling Travel Agency began in 1946 by Gene Ballard's grandfather. He started his career in the travel business as a bus driver, transporting passengers over the then dirt roads of Loveland Pass. When he developed eye problems, he was offered a position as a ticket agent and moved to Sterling for Continental Trail ways. His entrepreneurial efforts led to him opening a taxi business as well. Gene's father lived in Denver at the time, and in 1948 Gene's grandfather asked him to come to sterling to help him with the new business. So, while still in high school Gene's father worked at the travel agency and drove taxi. Gene's father was married in the early 1950's and his grandfather retired in the 1960's. Gene's parents operated the taxi service, travel agency, a Western Union Telegraph service, and a telephone answering service.
In the 1960's to early 1970's Sterling Travel Agency worked directly with airlines, handwriting tickets for customers. The guide outlined planned routes, times, and prices. Sterling Travel Agency staff would take requests, then call airline ticket offices after 5p.m. when the phone rates were cheaper. The business evolved to computer-based ticketing in the 1980's. In 1978 Gene started Travel Trails with two other partners, competing with Sterling Travel. In 1984 the companies merged.
Sterling Travel Agency has also had to adapt and change in many ways over the years. When travel agencies started working with the airlines, the agencies were told what to do, when and how. That all changed when the Civil Aeronautics Board was dissolved, and more air fares have been offered since then.
Another of these changes occurred in 2000 when airlines quit paying agencies commission for booking flights, even though travel agencies were generating 85% of airlines business.
Part of the progressing change in the business is the use of the internet and computer research. Internet opportunities have been a blessing to Sterling Travel Agency. The internet allows travel agencies to research travel packages and prices easier. Travel Agencies are called on to help customers find their way through websites. Additionally, the experienced staff of Sterling Travel has the insight of what is needed for a complete travel experience.
Please help us in congratulation Sterling Travel Agency on being the Logan County Chamber Business of the Week.
Pilkington Financial Group 10/14/19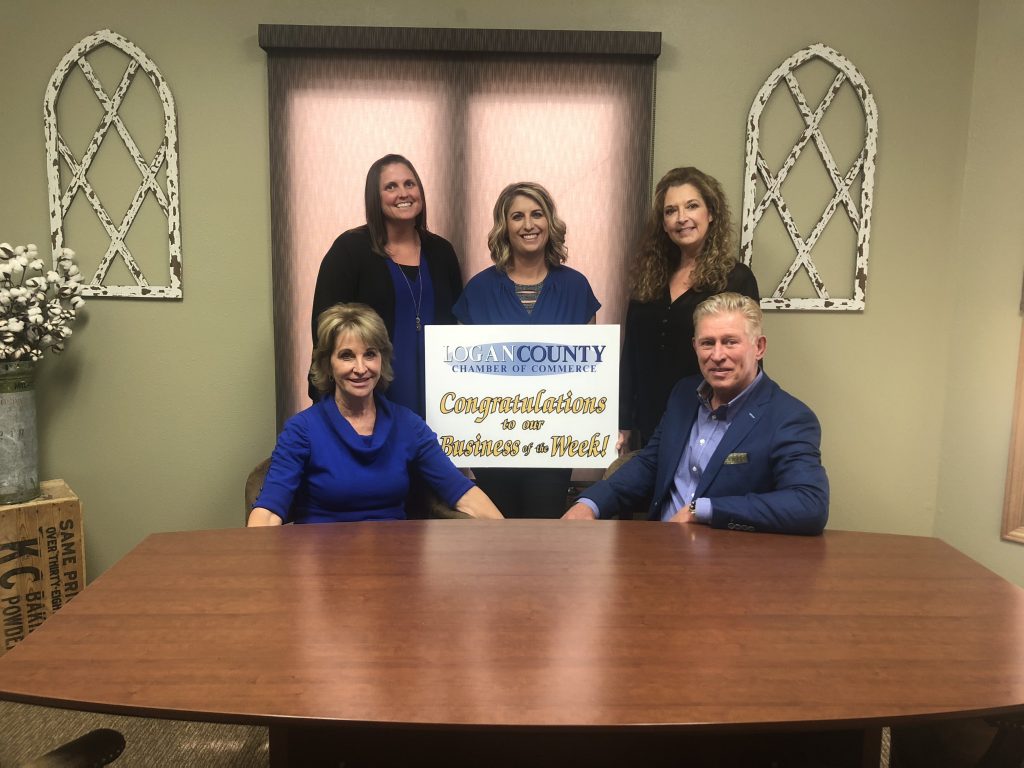 Curt Pilkington saw a void in the estate planning process in the 1970's, so he got licensed and started selling life insurance to help families with the inheritance tax burden. Curt started the life insurance business in 1975 in Greeley, CO.  In the 80's he became a Financial Advisor and Cindy took over the life, health and disability operation.  Curt and Cindy moved the practice to our current location at 226 S. 2nd Street Sterling in 1984.  In 2019 Shanan Doherty, Derek Pilkington, CFP and Curt Pilkington became equal partners in the Financial Advisory business and changed their business name to Pilkington Financial Group.  Thanks to technology we can work with over 500 families in 32 states.  Several families include four generations!  To sustain this growth, we added a Denver office in 2017 near Cherry Creek.  Derek Pilkington runs the Denver office while Curt and Shanan run the Sterling office. Our success can be contributed to our hard working and knowledgeable team.  Becky Bohler has been with us for 22 years and is the office manager for the Financial Advisory side.  Sandy Zimmerman joined the firm in 2000 and works with Cindy in the insurance operation.  Michele Carabello joined Pilkington Financial in 2017 and is an integral part of our team.  Our firm is unique in that we offer a full array of Financial Services including comprehensive Financial Planning, Investment Advisory, Life, Health, Medicare and Long-Term Care Insurance Services. Please join us in congratulating Pilkington Financial Services as Logan County Chambers Business of the Week!
Colorado Popcorn Company 10/7/19
Two friends, Kathy Littler and Sherry Brammer became business partners and purchased a local Sterling popcorn business.  After being partners for a couple of years, it was time for a change for Sherry, so Kathy took the reins of their business as the sole owner and proprietor of the growing business.  At the time, Colorado Popcorn Company was manufacturing and selling five different flavors of popcorn in a small store along Main Street in downtown Sterling, Colorado.
Soon thereafter, the company moved to a larger facility in order to expand.  Although the original five flavors were very popular, there was a demand for new specialty varieties.  Customer suggestions and ideas were used in creating new recipes, and Colorado Popcorn is now producing over 30 flavors of gourmet popcorn!  Additionally, Kathy added helium-filled balloons to the local retail store to complement the popcorn!
After more than thirty years of successful operations, Kathy Littler decided it was time to retire from the popcorn business.  Her hope was to find someone with the same passion for popcorn that had sustained her work for the past three decades to take over the reins at Colorado Popcorn.  In addition, they had to be willing to continue the legacy by keeping the manufacturing in Sterling.  She did find someone that fit the bill and in September 2017 turned the reigns over to Zachary Souffrant and Breanna Kelsch.
The business was started to provide the best quality gourmet popcorn at an affordable price to northeastern Colorado and online at www.coloradopopcorn.com They create over 30 gourmet popcorn flavors currently being sold throughout the state of Colorado in numerous grocery stores, gift shops, and hotels.  In 2017 they expanded with an online store at www.coloradopopcorn.com to complement their brick & mortar store.  This summer they upgraded their candied popcorn machines to increase their production capability to 100 gallons of candied popcorn per hour. In addition, with their new equipment they can now produce Kettle Corn. They plan on doubling their square footage and expanding into the west suite located at 320 Oak this November and will be completing a remodel of their manufacturing area and retail store in the spring of 2020.
Colorado Popcorn Company Specializes in: over 30 handmade gourmet popcorn flavors , popcorn by the bag, gift boxes, Popcorn Tins filled with up to 3 flavors, and due to a national helium shortage, they are the only place in Sterling, CO that carries helium filled mylar and latex balloons. They offer local delivery for popcorn and balloons within the city of Sterling and can ship popcorn to anywhere in the USA. (Last Christmas they had popcorn ship as far as Hawaii, Canada and even Europe.) They also sell Colorado Candy Company products such as peanut brittle, hard candy or thin ribbon candy for Christmas.
Please help us in congratulating Colorado Popcorn Company as Logan County Chambers Business of the Week!
A pillar in the community formerly known as First National Bank, then Colorado Community First, followed by Community First National Bank and finally in December 2004 became Bank of the West.  We are the 28th largest commercial bank in the U. S. by assets.
Being one of the largest commercial banks,  Bank of the West takes pride in preserving our local focus while maintaining industry-leading customer service.  We have long time employees, ranging from 2 years to 18 years with our Sterling branch who really care about their customers and making sure they are getting the home town feel and one on one attention that customers like.  Three of our employees attended the Bank of the West Circle of Excellence Conference,  an honor they each received for going that extra mile for their customers.
We offer checking, savings, money markets, wealth management and investments. On the lending side, we have the best Home Equity Lines, mortgage loans, auto loans, personal loans, commercial real estate, ag loans and SBA loans.  We are the third-largest ag lender and the third largest generator for SBA loans.  We are also a leader in loans in the RV/Marine and religious institution sector.  Our Digital Service channels are constantly refined providing the most competitive digital advancements for our customers.  Our constant focus on customer and expert collaboration drives our innovation standards in this competitive markets.
 We love being part of the community and engaging in many of the activities.  We want to thank the Chamber for giving the businesses this opportunity to be spotlighted!!
Wendy's began in 1969.  The Sterling Wendy's reopened in 1994 when Family Restaurants purchased it, although Sterling had a Wendy's for a short time before that. Family Restaurants saw a potential for Wendy's in Sterling because of its expected growth and the college was another big factor. Dawn Kasper is the Area Manager for Family Restaurants who oversees multiple restaurants including Sterling and Ed Liebig is the General Manager in Sterling. Wendy's was remolded in 2013-2014 creating a whole new dining experience. They have a wide variety of food items on the menu including lots of choices for the entire family. Wendy's specializes in salads prepared fresh daily, fresh never frozen North American Beef, great chicken sandwiches, and of course the Frosty! Wendy's contributes to the Dave Thomas Foundation for Adoption which is a nonprofit organization that finds homes for foster children across the US and Canada. All the money raised at the Sterling Wendy's goes to help fund adoptions in Colorado!
Sterling Federal Credit Union 9/9/19
Sterling Federal Credit Union is a financial cooperative chartered, supervised and regulated by the National Credit Union Administration.  Originally chartered as a community credit union in 1938, credit union membership is open to all residents that live in Logan and Morgan County Colorado and their families.
Everyone that joins the credit union becomes a member/owner. Once you're a member, you are always a member; even if you move from the community.
Membership includes the privilege to elect the volunteer board of directors that govern the credit union. Complementing the board is a team of twenty-six employees responsible for operations; nineteen in Sterling and six at the Fort Morgan Branch which opened in 1988.
In the beginning the only services available were share/savings and loans. Early business was conducted by Treasurer Mr. Emmett Groce out of his home at 506 Lincoln Street. The credit union's first office was at the Sterling Co-Op Oil Company on S. 3rd Street. Growth brought the credit union to its present-day location at 822 W. Main in July 1981.
Over the years, services expanded and today include a complete suite of financial products and services.
Along the way Sterling Federal Credit Union earned accolades that include:
The first Federal community type charter credit union to attain 1 million in assets in 1954,
Recipient of the Sterling Journal Advocates Readers' Choice Award,
Dora Maxwell Social Responsibility Award from the Credit Union National Association,
Consistently ranked highly among its peer group of credit unions and federal auditors, and
Most recently, Sterling Federal Credit Union was named #1 of 5,460 Federally insured credit unions by DepositAccounts – LendingTree, based on Capitalization, Deposit Growth, and Texas Ratio.
Sterling Federal Credit Union, where the credit union philosophy of "People Helping People" is behind everything we do.
Kutchar & Associate Accounting 9/2/19
Lyle Gress started the business in 1976 to provide tax services and other business services to the public.  The current owner, Dave Kutchar, graduated from UNC in 1982 with a business degree (emphasis in accounting) and started working for Lyle in 1984. When Dave began working for Lyle the business was located in the old library. In 1994 they moved to the current location and remodeled the retail space to be a business office. Dave bought practice in 2000. The Downtown Urban Renewal funds were used to redo the facade in 2007 adding a conference room, smaller windows and stucco exterior in front. The interior was updated once again in 2016. Kutchar & Associate Accounting continues to serve at this location.
Sterling Workforce Center 8/12/19
The Sterling Workforce Center has been present in the City of Sterling for over 30 years including 16 years on the Northeastern Junior College campus and 3 years in our current location at 100 Broadway, Suite 24, Sterling, CO  80751.
The Sterling Workforce Center is an agency of the Colorado Department of Labor and Employment and is one of six centers serving the ten counties in the Eastern Sub-Region under Regional Director, Dawn Robards. The Sterling Workforce Center specifically serves Logan, Phillips, Sedgwick and Washington Counties and we have outreach offices in Akron, Holyoke and Julesburg.
The Workforce Center has held a variety of activities and events over the years including job fairs, hiring events, a Veterans Appreciation Day, business roundtables, workshops, and youth mock interview events.  In 2018, the Sterling Workforce Center, in partnership with the Family Resource Center who provided in-kind services and use of facilities, received a grant to offer a week-long, hands-on summer camp (TRAINcation) for middle school youth to learn about local manufacturing careers.  The Workforce Center will offer a similar event in the summer of 2020.  The Sterling Workforce Center has also provided and continues to provide funding for adults and youth who meet eligibility requirements to assist with the cost of training.  Many of these students have completed programs (including auto mechanic, wind technician, nursing, welding, and wind technician) through Northeastern Junior College.
The Sterling Workforce Center provides easy access to a variety of free services to assist employers and job seekers.  Employer services include customized job postings to fit individual business needs, assessments and skills testing to assist in applicant screening, hiring events, and labor market and demographic information.  Local job openings are listed on the internet and statewide Connecting Colorado (www.connectingcolorado.com) system.  At the Sterling Workforce Center, job seekers can utilize a resource center with public computers and internet access, and use office equipment for employment-related purposes.  Job seeker services include registration and job-search assistance, skills assessments, resume and cover letter guidance, interviewing training/mock interviews, training and education programs, youth and veterans services, and networking opportunities.  Customers can choose either self-service or staff-assisted options.
The Sterling Workforce Center maintains a close relationship with other service providers that are a part of local and statewide employment and training networks.  Customers needing additional services may be referred by the Workforce Center to appropriate agencies.
September is Workforce Development Month, an annual tradition in Colorado. Colorado's Workforce Centers and the Department of Labor and Employment will provide a variety of special events designed to help Colorado businesses and workers succeed.  The Sterling Workforce Center will be holding an Open House on September 18 in addition to several employer hiring events throughout the month.  If you are an employer/organization interested in holding a hiring event, workshop, or related activity in September, please contact our office for more information.  (970) 522-9340, ext. 101. Join us in Congratulating the Sterling Workforce Center as our Business of the Week!
Kellogg-Ewing-Leavitt Insurance Agency 8/19/19
Kellogg-Ewing-Leavitt Insurance Agency began business as Kellogg-Ewing & Associates in 1979. Will Kellogg and John Ewing opened Kellogg-Ewing and Associates to provide insurance coverage for the needs of clients in communities throughout Northeastern Colorado. Will and John thought Sterling was a perfect place to start a business and raise their families. Larry Eakin joined the agency as a minority owner and office manager in 1980 Kellogg-Ewing & Associates office was located at 304 Cedar Street for many years before moving to the current location at 119 N 3rd Ave in 1997. A secondary location at 246 N Colorado in Haxtun, Colorado was opened to serve clients two days a week in that area in 2007. Kellogg-Ewing & Associates partnered with the Leavitt Group in 1995 and became Kellogg-Ewing-Leavitt Ins. Agency, Inc. The Leavitt Group is one of the largest privately-held insurance brokerages in the nation. Doug Stumpf began as a producer in 1986 and purchased ownership in 2000 upon Will Kellogg's passing. Larry Eakin retired in 2004 and John Ewing retired in 2005 after building the agency for many
years. Becky Workman is an agency co-owner and manages the personal lines department and office. She began with the agency in 1997. Melissa Moos began her insurance career in 2000 and is the agency farm-ranch specialist. Jill Allen started with the agency in 2002 and services the commercial insurance as well as other office tasks. Tracy Glissmann has been with the agency since 2006 servicing the health, benefits and bond department. Kellogg-Ewing-Leavitt Insurance Agency continues to build on the relationships with their clients throughout Northeast Colorado for their farm & ranch, auto, home, bonds, commercial and life & health needs. Please join the Logan County Chamber in Congratulating Kellogg-Ewing-Leavitt Insurance Agency, Inc as our Business of the Week!
Dr. J Scott Hadley DDS 7-29-19
Dr. J. Scott Hadley DDS began his practice at the Sterling location in 2004. They are closing in on 15 years of serving Northeast Colorado! Vivian Hadley, J. Scott's wife has been co-owner and Office Manager. They wanted to help meet the needs of Northeastern Colorado by joining Sterling's Dental Community. Their practice began in 1994. They were first in neighboring Phillips County and later moved to their larger office in Sterling. Their office includes cosmetic, restorative and periodontal aspects of general dentistry. They are available from 8:00am to 5:00pm Monday through Thursday. They file all types and brands of dental insurance. You are welcome to go ask their receptionist Terri about specific dental insurance plans. Please join the Logan County Chamber in congratulating Dr. J. Scott Hadley DDS and his staff as our Business of the Week!
Korf Auto Group, Ron Korf, started in business in 1975 in Yuma as a Chevrolet Buick dealership and added Oldsmobile franchise in 1987.  In 1988 Chrysler Dodge Jeep Ram was added to the franchise group in Yuma. The Yuma store has been under the General Management of Hank Miranda since its beginning. In 2010 Korf Auto Group bought Spicknall's GMC Pontiac store in Akron and moved the franchises to Yuma. Six months later General Motors cancelled Pontiac and eliminated the Pontiac franchises nationally. Consequently, Yuma is now a Chevrolet Buick GMC-Chrysler Dodge Jeep Ram business. Korf Auto ventured out and got into the Van Conversion business in 1990's and sold Continental Coach "Highline" conversion vans and trucks as a sanctioned Chevrolet Bailment Pool Company.  Continental Coach provided thousands of vans and truck conversions to many dealers throughout the mid-west for about ten years. As the Conversion industry matured throughout the nineties, the manufacturers became attentive of that market.  The new mini vans and the factory full sized van conversions soon evolved into the manufacturers new model lineups. With the manufacturers new products coming to market, they decided it was a good time to sell the Conversion business to a Fort Collins entity. 
In 2003, they opened a Used Vehicle dealership in Brush.  It now has been operational sixteen years under the guidance and management of Tony and Julie Peckham. Tony and Julie have developed many customers and friends over their many years of service in Northeastern Colorado. In 2010, Korf Auto had the opportunity to purchase the Julesburg Ford store and make it part of their group.  In that store they specialize in doing a significant Fleet business of about two hundred fifty units annually plus their normal retail business. Their Fleet Manager, Ted Baca, is extremely qualified and has been with our company since 1998. Their Korf Auto Group Operations Manager, Dan Foster, oversees the Julesburg operation. In 2016, Korf Auto Group sold the Sterling Korf Chevrolet Buick dealership at 1200 West Main.  They operated that dealership for eight years. They then exercised an option to purchase the Sterling Ford Lincoln**Chrysler Dodge Jeep Ram dealership at 520 East Chestnut, in Sterling.  They have now been two and half years offering full Sales and Service at that location. Tony Peckham is the Operations Manager, Keith Peer is the General Manager, and Donnie Chrismer is the Sales Manager in Sterling. Matt Pierce is their Parts Manager and Ted Lawson is their Service Manager. Many of their stores operate under the dba of Korf Continental.  In Sterling, Korf Motors, LLC is their Ford Lincoln business name and Korf Continental is their Chrysler Dodge Jeep Ram business name. In Yuma, Korf Chevrolet Buick GMC, Inc. dba Korf Continental is their handle and that includes Chrysler Dodge Jeep Ram at that location. In Julesburg and Brush they are known as Korf Continental. The Korf name has been around in the automotive business since 1975 and has developed many friends and customers throughout the years selling in a very large geographical area including Colorado, Wyoming, Nebraska, and Kansas.  They currently employ about one hundred employees in their four locations. Please join the Logan County Chamber in congratulating Korf Motors as our Business of the Week!
The business was started by Stan and Bonnie Kloberdanz in 1987. In January of
1999, Rick and Sue Weingardt purchased the flower business. Over the last twenty years Rick and Sue have had the opportunity to design for many special events across the states of Colorado and Nebraska. The shop was recently remodeled in order to accommodate customers by moving the front door to a new location. The Weingardt's offer fresh arrangements made with flowers from the World's Market as well as many decorative items. They handle occasions from "just because" to funerals, weddings and community events such as the Sterling Community Fund Gala. Please join the Logan County Chamber in congratulating Cattleya as our Business of the Week.
Logan County Lumber 7-1-19
Logan County Lumber, located at 502 S. 11th Ave has been serving Sterling, Colorado since 1909. Logan County Lumber was founded by George Henderson which later transitioned into a corporation now known as "The Sterling Lumber and Investment Company." Sterling, CO began growing very quickly and George Henderson (founder) saw the
need an opportunity to open a lumber yard. Logan County Lumber was originally located on Main Street near Barnes Pharmacy. Some years after, they relocated to Chestnut Street where Daylight Donuts currently sits. In August of 1993, they found their new home and current location at 502 S. 11th Ave, Sterling, CO.
They are able to meet all your building needs including lumber and building materials, either in-stock or special order; which now includes a Design Center with cabinets, flooring, countertops and more! They also offer FREE in town deliveries. Join us in congratulating Logan County Lumber as our Business of the Week!
Shipping and Stuff 6-24-19
Larry and Shawna Stoltzfus owners of Shipping and Stuff opened their doors on
April 21, 2018. The business located at 1321 W. Main Street, is operated by their
daughter, Melanie Buckler…family owned and operated! They saw a need to offer a one stop shipping store in Sterling. In one stop, a customer can decide to ship with FedEx, UPS or USPS…it is their choice! They also offer in-store large format printing of banners, signs and pictures! They are still a new business…same location, same owners. Although, they have changed up some of the product offerings in their first year. They are continuously striving to offer what the customers need! Some of the things they
specialize in are
Packing and Shipping
Package Safe Keeping (have a package delivered to their store, instead of your
front porch!)
Mailbox rental, both in store and "virtual"
Copy, Shred, Notary, Fax, Scan, Binding, Laminating, Key Duplication
Printing, both regular and large format (banners, posters, photo packages, canvas
printing)
Custom design of invitations, announcements, etc.
In store computer rental
Packing Supplies, Office Supplies, Mobile Phone Supplies
Hand-crafted creations
They are very grateful for their customers and the community support over the
past year. Please join the Logan County Chamber in congratulating Shipping and Stuff as this week's business of the week!
   Originally opened by Renee Selvidge in 1997, Area Wide Realty at 1100 West Main St. has served northeastern Colorado for 22 years specializing in residential real estate sales. Renee opened her own real estate service to allow her more control and more freedom with an office centered around integrity, professionalism and quality customer service. This allowed Selvidge the opportunity to meet customers at their convenience while still affording her time with her own family. Renee was joined by her husband Shannon in 2006, and recently daughter Brianna McBride became a licensed agent in 2016 after working at AWR as an assistant for five years. As well as residential real estate, the staff at Area Wide Realty also has experience in multi-family, commercial and land sales. Renee stresses, "Our goal is to assist our clients in fulfilling their goals whether it is selling, or buying, a home and investment or commercial property. We love helping to fulfill the dream of home ownership."It's easy for AWR professionals to be proud supporters of home ownership, especially in Logan County, because "Sterling has so much to offer to so many." Having lived in Sterling since 1996, the Selvidge's raised "our two children here".  We love this area and what it offers in so many aspects of our lives, our children's lives and now our grandchildren's lives." Renee, Shannon and Brianna are also members of the Foursquare Church, serving on many different committees within the church. Additionally, Area Wide Realty has been proud to have been associated with many community events including Sugar Beet Days, the Christmas Parade of Lights, the Better Business Bureau, the Logan County Chamber of Commerce as well as the Logan County Fair. Renee and Shannon have served multiple times on the Logan County Board of Realtors with both being voted "Realtor of the Year," Renee three times. Area Wide Realty has also been involved with different Logan County Board of Realtors committees such as "Helping Hands", "CAR Director (Colorado Association of Realtors)", "MLS Committee,"  "Adopt a Family for Christmas." "Christmas Party Committee" "Finance Committee." "Step Out for Kids" and "Real Estate Professionals Reaching Out." Renee, Shannon and Brianna, and their loved ones, have also passionately worked on the Northern Colorado Multiple Sclerosis (MS) Walk over the past decade including establishing a local MS Run previously held the Saturday of Sugar Beet Days.  To help ease the stress on their customers, Renee and her husband and daughter are continually taking real estate courses to keep up to date on the most current rule and utilize proven ideas to better serve her customers. Renee, Shannon and Brianna are always happy to meet with people to discuss their real estate needs at Area Wide Realty. Please join the Logan County Chamber in congratulating Area Wide Realty as this week's business of the week!
The Harmony Home assisted living opened in October of 2017 by Scott and Kendall Rubottom as owners and operators. The building they chose at 703 Holly Drive had been vacant for several years. Scott owns Sterling Handyman Construction and Kendall has been a Registered Nurse for 11 years. With their combination of professions, they started brainstorming renovations for this building and making it a home for the elderly. After much research, they determined assisted living would be a great need for the community in the years to come. The building at 703 Holly Drive was purchased by the Rubottom's in May of 2017. During the renovation process the kitchen was completely redone, fresh paint and flooring everywhere and showers were added to each room for resident's privacy. Since The Harmony Home has opened in October of 2017, they have steadily increased their resident numbers to full capacity.  In addition, on February 1st, 2019, they acquired a 2nd location in Yuma Colorado. The Harmony Home Yuma is a 25 bed assisted living facility. Kendall commented, "We have been so blessed to have gotten to care for some pretty amazing, loving residents."
The Harmony Home ownership and staff prides themselves on personalized care in a homelike environment. They work closely with the family and physician to be sure that they are fulfilling all the residents needs. Some services provided are: Personalized assistance with relocation to The Harmony Home
Registered Nurse consultant on staff
Well trained staff on duty 24 hours per day
Three nutritious home cooked meals per day plus any snacks desired
Daily housekeeping services
Personal laundry and linen services
Private amenities in each room
Showers according to care plan, daily hair and personal care
Medication administration
Transportation arrangements if needed
Weekly linen changes (more often if needed)
Emergency call system provided and monitored
Dish Network TV
Activities/exercise programs 
Home-like atmosphere
Kendall also works very closely with her staff to Ensure that they are giving the best care possible to their residents. "We feel very blessed to have amazing people on our staff that love and care for our residents each day"
To request information about The Harmony Home or for questions about how to care for your loved one as they age, call Kendall Rubottom, RN at 970-466-9775 or The Harmony Home at 970-522-7644. 
Please join the Logan County Chamber in congratulating Ice Lanes Bowling Center as this week's business of the week!
Ice Lanes Bowling Center is located at 208 North 10th Ave. It was originally a roller-skating rink in the mid 1900's. After several years it was turned into a 10-lane bowling center and an addition was added to the building to accommodate 8 more lanes. Thomas Haynes was bowling at a state tournament with his wife, Icel's father and brother when they learned the center was for sale. One thing led to another and on May 31 st , 1996 Thomas and Icel Haynes completed the purchase to become proud owners of the bowling center. They renamed it Ice Lanes and over the last 23 years they have made many renovations including upgrading the wood lanes to synthetic. Installation of a new projector, from self-scoring to electronic and recently updated to a newer system. They have installed new ball returns, carpet and flooring throughout. They offer bowling leagues, family fun entertainment, pro shop, company and group events and parties. They host fundraising events and offer a restaurant, bar and pool. Please help the Logan County Chamber in congratulating Ice Lanes Bowling Center as this week's business of the week.
Sterling MedCare Home Health Agency opened its doors in 1995. Jackie Donnelly, a nurse since 1957, established the agency with two patients and four employees. They &#39 have now been in operation and serving northeastern Colorado for 24 years. Jackie continues to own the agency but has retired from her administrative position. They have a Board of Directors that she serves on which allows them to draw upon her years of experience and guide their vision as well as their day to day operations. She served in many capacities for the Home Care Association of Colorado which helped her shape a strong and sustainable agency for the community. When the agency opened Jackie saw the opportunity to provide healthcare at a more modest cost to the consumer, pay sources and the provider. Patients prefer to be at home, suffer far fewer complications and experience superior outcomes in their own homes. Sterling MedCare can provide individualized, focused, one on one care to patients and families in a way no facility or provider can. It's the best possible path to the best possible health for patients and their families! Sterling MedCare's first location was at 224 S. 2nd St. in Sterling. Since then they have moved to at least a few other locations until in 2006 when they built their own offices at their current location of 614 S. 10th Ave. Their staff has grown to twenty-one and have cared for thousands of patients in and around Sterling. Jackie retired in 2012 and asked her daughter, Michelle Shorter, to become the Administrator. Sterling MedCare Home Health provides a comprehensive list of services both skilled and non-skilled. Skilled services include nursing, physical therapy, occupational therapy, speech therapy and certified nurse assistance. Non-skilled services include, personal care, homemaking, meal preparation, and other services the client may require. A unique program they are proud to offer is one for parents caring for a child who is medically fragile or has an ongoing chronic condition. They have cared for newborn and premature infants, those who are at the end of life and all that fall in between. Healthcare can be a complicated and confusing system. Sterling MedCare is happy to assist patients and families in guiding them to access the care they need. Though they are located in Sterling, Sterling MedCare's service area extends to a 60-mile radius around Sterling including areas of Logan,Sedgwick, Phillips, Washington, Yuma, Morgan, and Weld counties. Sterling MedCare is thankful to the city of Sterling and all the communities they've had the privilege of serving and look forward to many more year. Please help the Logan County Chamber in congratulating Sterling MedCare Home Health for being this week's Business of the Week.
Sterling Trophy Shop 5-27-19
Sterling Trophy Shop located in the Broadway Plaza Shopping Center was started in 1980 by Carol and Harold Drescher. In 1993, Laural and Mike Brownell purchased the business with the hopes of
finding something that Laural could do while still raising their children. The Sterling Trophy Shop has had a wonderful staff through the years, making the shop what it is today. These employees include Carol Holzworth, Julie Sonnenberg, Polly Kurtz Winner, Audrey Brownell, Craig Brownell, Marybeth Skerjanec, April Gibson, and Sherrie Anderson along with numerous family members when in a tight spot. The business has been through a flood and survived and a fire that took it all. They have been in several locations in Sterling but love their home in Broadway Plaza. Adding a laser to their business 17 years ago was a big jump. They have supplied awards for Kansas and Colorado State Fairs, contests in Jamaica, and have shipped items all over the country. Sterling Trophy works for people across Colorado, even supplying badges, ribbons and buttons for conventions. In addition to the wonderful trophies and plaques, Sterling Trophy can do so much more. They create beautiful corporate awards, nameplates and name tags, as well as Acrylics which have become very popular in the last 10 years. Pet tags are an important aspect for all the pet lovers. They love to work with their clients to come up with something special that works just for them. If they don't have it in stock, they can probably order it. Many businesses need custom signage and tags for their line of work, which Sterling Trophy can make in house. If you want something that can be personalized, Sterling Trophy is your source. Poker sets, keyrings, pens, pen sets, desk accessories, wine boxes and wine sets, flasks, slate and wooden cutting boards, coasters, business card holders, clip boards, portfolios, flag cases, silver trays, clocks, USB drives. They can permanently mark bbq utensils, hammers and tools as well as serving sets and gifts for weddings and events and so much more. See what Sterling Trophy can do for you. Please help the Logan County Chamber in congratulating Sterling Trophy Shop as this week's business of the week.
Northeastern Junior College 5-20-19
Northeastern Junior College was founded in 1941 on a recommendation from the Logan County Council of Parent –Teacher Associations and interest from Logan County high school senior interest in attending a junior college close to home. On Sept. 8, 1941 Northeastern opened its doors offering math, science and English courses as well as carpentry, fine arts and drafting, radio science, photography, business and journalism. Northeastern has grown considerably over the past 78 years. From humble beginnings of using space at
the Sterling High School; to one building that housed all aspects of the college; to a two campus institution with nine educational building, a student center, six resident halls, a library/learning center,
theater and athletic facilities to house 10 athletic teams, rodeo team, a livestock judging team and a cafeteria.
Northeastern currently offers more than 80 programs and 600 courses in agriculture, business, liberal arts/humanities, health care, math, science and career and technical. Work has begun on the expansion
of the Applied Technology Campus, formerly known as North Campus, to expand and strengthen learning spaces, enhance current program offerings and to allow space for new programs in career and
technical education. Many updates have taken place over the past couple of years to the main campus: Pete's Retreat located in the Hays Student Center and Williams Residence Hall have been remodeled. The cosmetology building and the cafeteria are in the last phases of being remodeled and should be completed this
summer. Northeastern is in the process of opening a new satellite campus in Yuma, Co it will house adult and community education programs, GED, ESL, concurrent enrollment, and college credit and non-credit courses. Please help the Logan County Chamber in congratulating Northeastern Junior College as this
week's Business of the Week!
Sterling Livestock 5-13-19
Sterling Livestock located at 20197 Riverside Drive, originally started in Columbus Ohio by M.H. VanBerg and was later purchased by his son and daughter in law, Bud and Arlene VanBerg in 1958. Bud wanted to be in Colorado so he moved his family and the business to its current location in Sterling. In
2005 the current owners, Jim and Becky Santomaso took over the business. Sterling Livestock has been a family owned business for 60 years. Jim and Becky are blessed to have their son and daughter, Jason and
Jenny, as well as their 5 grandchildren working alongside them. They have a terrific crew and wonderful customers. Along with their weekly cattle auctions, Sterling Livestock also does farm machinery and
antique auctions. In addition to the weekly sales, they have a café ran by Deanie VanBerg, serving delicious homemade entrées and pies. Each week you will find the Santomaso family working diligently
to make sure your buying and selling needs are met. You will also see Sil Tadolini who has been with Sterling Livestock from the start in 1958. Jim and Jason take pride in selling cattle at auction at the
highest prices in the area. Please help the Logan County Chamber in congratulating Sterling Livestock as this weeks Business of the Week!
Scott and Melissa Schaefer, the current owners of the Fox 5 Theater, purchased the existing business in 2012 from Jack and Sandy South, who owned the theatre for several years. The Fox 5 Theatre started as a play house and morphed into a movie theatre with two screens. When Jack purchased the business, he added theatres 3, 4 and 5. Years later when the Schaefer's purchased the business, they installed digital projectors, and updated the sound systems in all five theatres. They began remodeling the exterior part of the building in May of 2014 and the concessions stand area in February of 2015. Scott and Melissa are currently working on updating crucial parts of the building which include the roof and other exterior components. Once completed, they plan on finishing with an
interior remodel which will include updates in many areas, along with getting new screens and seats. Joe Kraxner is a huge asset to the theatre. He has been an integral part in updating, installing and directing
the IT which is a huge part of the business. He is also partnering with Scott and Melissa and will be even more involved going forward. The Fox 5 Theatre provides their customers with a fun and enjoyable
movie going atmosphere, where they can purchase freshly made popcorn, soda, candy and many other items to enhancing their movie going adventure. Scott and Melissa are thankful for the opportunity to
share their love of movies and the movie theatre experience with their hometown. Please help the Logan County Chamber in congratulating the Fox 5 Theatre as this week's Business of the Week!
Concrete Specialties 4-15-19
The original Concrete Specialties Construction Company started in 1962. In 2003, Mark Krier,Duane Krier Jr., and Alan  Krier purchased Concrete Specialties Construction and renamed it Concrete
Specialties and Utilities Construction. Duane and Alan still own the company, after Mark retired in 2018. In 1962 the company was founded by Dale Krier (father of Alan Krier) and Duane Krier Sr. (father of Duane Krier Jr.), exclusively performing concrete construction projects. In 1969, Delmar Krier (father of Mark Krier) joined his brothers Dale and Duane Sr. as owners. After a few years of business, the company expanded its services to also include excavation, water and sewer utilities construction. In the
late 80s, the company further expanded its scope to bridge construction. Again, in the early 2000s, the company expanded to provide snow removal services to the City of Sterling. The services the company provides include heavy concrete construction such as irrigation structures, roadways, curb and gutter; bridge construction; water and sewer utility construction; snow removal; excavation; demolition; dewatering and general contracting. Major projects completed include bridge construction of multiple bridges across the South Platte River, Pawnee Irrigation structure, Harmony Irrigation Structure, Caliche Water and Wastewater Renovations and large-scale waterline replacement projects for several cities in the region. Please help the Logan County Chamber in congratulating Concrete Specialties and Utilities Construction as this week's Business of the Week.
The Sterling Culligan located at 329 Oak St. is one of the more than 800 franchised dealerships in more than 90 countries. Emmett Culligan started the business in 1936. In the 1930's Culligan's main focus was to treat hard water in the home with portable exchange tanks. Over the years Culligan has expanded its product offering to include problem water treatment as well as drinking water solutions for residential, commercial and industrial applications. In 2004, Dan Sutter and Ty Baseggio purchased the Sterling dealership, and expanded their operation in 2007 when they purchased the Fort Morgan dealership. Sutter and Baseggio value their customers and take pride in themselves on the service they provide. They have a very experienced team that strives to provide the best equipment available along with the best possible service daily. Dan Sutter (15 years), Ty Baseggio (14 years), Pam Koester (13 years), Ernie Naranjo (12 years), Russ Hershberger (11 years), Jon Medeles (9 years), Crystal Graff (5 years) and Matt Welsh (4 years). In 2015 the Sterling dealership was awarded the prestigious "Emmett J Culligan" Award of Excellence for being in the top 15 dealerships in all of North America. Culligan specializes in water treatment for residential, commercial, and industrial applications. They offer for purchase or lease: water softeners, reverse osmosis systems, bottles coolers and bottled water coolers. They have specialized automatic filters for problem water such as arsenic, iron, sulfur and chlorine. Culligan also offers delivery services of bottled water and salt to their residential and commercial customers. Dan & Ty are both WQA certified Water Quality Specialists & Installers.  Ernie & Jon are both WQA certified Installers. Please help us in congratulations to Culligan on being this week's Logan County Chamber Business of the Week.
HR Tire was started in 1979 by Henry Rosas, and is still family owned with 3 generations working there. Henry and Roberta Rosas, son Jeff Rosas and his children Scott and Rachelle Rosas. Throughout their years owning and operating the business, there have been several remodels and additions. The business started with 3 service bays, and now has 15. HR Tire offers many services including tires, wheels, fuel, alignments, oil changes, on the farm tire service, and propane on anything from large trucks to cars and pickups. HR tire will be celebrating 40 years of wonderful service to the community this year. Please help the Logan County Chamber in congratulating HR Tire as this week's business of the
week!
The Sterling Bomgaars location was opened for business in November of 2011 as the 60th store in the company with locations from Central Iowa to Colorado. Bomgaars was founded in the late 1940's in Sioux City, IA as an automotive parts supplier and grew over the years to add farm, ranch and home goods as well as general merchandise. The company was started by W.H. Bomgaars and is currently owned/operated by the third and fourth generations of the Bomgaars family. As the company expanded to western Nebraska and Colorado, they found the opportunity to open a new location in Sterling, Colorado that was formerly a Walmart. This was a great space for them to make their own and allowed them the opportunity to expand their footprint into northeast Colorado to serve the needs of farm and ranch customers throughout the area. With a moderate amount of remodeling, they were able to open this store and fill it up with a wide variety of merchandise as well as display many additional products that don't fit into their smaller locations. With more than 66,000 square feet of retail space and as a farm/ranch and general merchandise retailer they carry a multitude of products, totaling at least 60,000 SKUs in 13 major departments including lawn and garden with nursery, clothing and footwear, farm, pet, automotive supplies, paint, hardware, tools, housewares and toys. In addition, Bomgaars also offers special order products, in-store assembly, propane tank exchange, product deliveries and key cutting services. Please help the Logan County Chamber in congratulating Bomgaars Supply as this week's Business of the Week!
Journal Office Supply 3-11-19
Journal Office Supply began in 1941 when Otto Unfung started the business. It started as a print shop and office supply store. Jim Horner, the current owner, has owned the business since 1976. Throughout the years, Journal Office has expanded their offerings. In the 1950's typewriters and adding machines were added to their inventory. In 1975, copier sales and services were added along with a complete line of office furniture. Today, Journal Office carries office furniture, digital copiers, office supplies, and they are an authorized Brothers Service Center. The Journal Office staff is very knowledgeable, the average employee has been with the company for 24 years. In 2014, their building was restored to the original front. Please help the Logan County Chamber in congratulating Journal Office Supply as our Business of the Week.
Nichols Tillage Tools 3-4-19
Nichol's Tillage Tools began in the 1930's as a repair shop later becoming a manufacturer of spare parts for cultivation and planting equipment. Nichol's holds patents and original designs of products that are best made and often unique shapes. The business came to Logan County in 1982 and have continued to expand facilities and sales each year since. Nichol's Tillage Tools employs many men and women of the community, and are very thankful for their work. To learn more about Nichol's Tillage Tools, visit their website at nicholstillagetools.com Please help the Logan County Chamber in congratulating Nichol's Tillage Tools as this week's Business of the Week!
Sterling Monument Company 2-25-19
Sterling Monument Co located at 18851 Highway 6 has been open since 1918. In 1985, the current owner, Grant Hogarth purchased the business from Fort Collins Monument Works, and the Koenig family before that. After Grant bought the business, he took on a partner eventually having outlets in Colorado, Nebraska, and Texas. Monuments are their main product, but they also do signs and historical markers. Sterling Monument has a large selection of products to choose from, and allow you to add your personal touch with their customization. Please help the Logan County Chamber in Congratulating Sterling Monument Company as this week's Business of the Week.
Sterling Auto Sales located at 531 W. Main St. in Sterling has been in business since
1961. Owner Tyler Wagner is the third-generation to run the business, and is keeping up the traditions set by his father, Gene Wagner, and grandfather, Gib Wagner. Sterling Auto Sales was awarded the CIADA- Quality Dealer of the Year award. The family owned business has been a trusted car dealership offering clean pre-owned vehicles. They offer financing for almost all credit types, and are safety inspected and serviced. Sterling Auto is also a Carfax Advantage Dealer, and provide a Carfax report for every car free of charge, on their website at sterlingautosalesft.com Please help the Logan County Chamber in congratulating Sterling Auto Sales as our Business of the Week.
Hootenannies located at 324 W. Main St. in Sterling is owned by Kevin Griffee, and is managed by Trevor Bedsaul. In April of 2014, Kevin saw a need for a restaurant/bar in Sterling, wanting to offer a variety of food to meet everyone's desires as well as being kid friendly. Trevor joined the team prior to the business' official purchase and works to continue the vision that was established while also adding his own spin on Sterling's demands. On April 7, 2014, Chester's Pub, primarily a bar that served a very limited menu, turned into Hootenannies. They took over with a smooth transition by offering the same menu and beginning the addition a full kitchen, a patio, a revamped menu, and exciting late night changes. By October of 2014, they were finishing up the remodel of the kitchen and starting to get the changes finalized as desired. By Hootenannies' one year anniversary they had added tap beers, nearly tripled their spirit selection, finished up our covered and heated patio, and had their initial full menu catching the attention of locals, offering a really good burger. Over the next couple years, they continued to make improvements as to what their customers wanted, such as wider selection of burgers, sides, draft beer, more TVs, a full-service bar on their patio for special events, and more live entertainment. As Hootenannies approaches their 5-year anniversary, they can make note of several changes, such as an increased wine selection, and 11 draft beers to choose from. Hootenannies also has a full-service heated patio with TVs, pool tables, big screen TVs, and its own draft beer system, with plenty of tables to sit and relax. Their menu continues to grow offering over 15 different burgers with more offered as specials. Their menu now consists of multiple appetizers, steaks, salads, and more… which is continually changing to offer the best values, healthy options, seafood requests, and spring specials that are still a secret… They also now offer, Hootenannies mugs, glasses, shirts, and sweatshirts. Please help the Logan County Chamber in congratulating Hootenannies as this week's Business of the Week!
D Cent Plumbing began in the garages of brother Don and Cliff Lock in December of 1975. Both brothers had plumbing experience and wanted to start their own businesses. They continued their
businesses in their garages until 1994 when their current shop was built at 414 N. 2nd Street in Sterling. In 2010 Don retired followed by Cliff in 2016, leaving the ownership to his son, Jeff. Jeff took ownership January 1, 2017 by keeping it a family operation with his sons and other family members working
alongside him. D Cent Plumbing offers new installation and services of plumbing ad boilers, sewer and drain cleaning, water heater installation, faucet and plumbing fixture repair and replacement, as well as, new construction and remodels. Please help the Logan County Chamber in  congratulating D Cent Plumbing as this week's Business of the Week!
Dale's Jewelry began in May of 1983 when Dale and Jeanne Bedsaul purchased the existing jewelry store, Scheberle's Jewelry, which had been in operation for 28 years. After operating at 103 S. 2nd St. for 21 years, Dale's Jewelry was able to move to their current location at 201 Main St. in October of 1994. This location was almost doubled in size, and allowed them to design a layout that could suit
their needs. Dale's Jewelry carries a full line of fine quality jewelry which included diamonds, and a vast array of colored stone jewelry. They carry a large selection of bridal engagement and wedding rings from
numerous manufacturers, many which can be customized to fit your wishes. Dale's also carries pendants, earrings, bracelets, rings of all types, gold jewelry, sterling silver lines from award winning designers. They offer diamond setting, remounting, and service on all the items that they sell. They
provide a personal, professional and comfortable atmosphere for all their customers. Each year Dale and
his staff attend an international jewelry show with over 2,000 vendors, to bring you the latest styles with the most unique designs. In addition to their membership with the Logan County Chamber, Dale's Jewelry also belongs to
The American Gem Society, Jewelers of America, Retail Jewelers Organizationg, and the Better Business Bureau. Please help the Logan County Chamber in congratulating Dale's Jewelry as this week's Business
of the Week!
Wells Fargo has been serving the Sterling community since 1925. It started out as a Security Service Bank and has been through a few different mergers until finally becoming Wells Fargo in 1975. The Wells Fargo company has been around for over 165 years and is one of the nation's largest banks. Wells Fargo is a resource for their customers, they provide financial guidance and ensure to be there every step of the way. As a team, they go above and beyond taking care of customer needs. They have a firm belief in making sure things are done right the first time. The Sterling team is passionate about the community and making sure their customers are happy. Please help the Logan County Chamber in congratulating Wells Fargo on being our Business of the Week.
CHS is a farmer and rancher owned cooperative with owners across the United States. CHS's
first priority is to help farmers and ranchers grow, providing quality products, the latest innovation and
first class customer service. As agriculture and communities evolve, they are committed to staying
ahead of the industry. CHS employs a knowledgeable and professional staff to assist their customers
with any needs.
The down town Sterling office was formed in 2015 when two parent cooperatives merged their
agronomy divisions together to better service their owners. The CHS agronomy division services farmers
and ranchers in Northeast Colorado and parts of Southwest Nebraska offering them fertilizer, crop
protection, and application services.
Please help the Logan County Chamber in congratulating CHS as this week's Business of the
Week!

Creative Eye Works 1-7-19
Creative Eyeworks located at 100 Broadway in the Broadway Plaza Shopping Center, has been serving our community for 22 years. Bonnie Frank, along with Carol Brunkhardt started their business knowing that their services would be a nice contribution to the community. In 1996, they were located on S. 3rd Avenue, later moving to a larger location in 2008.
Creative Eyeworks carries a large selection of prescription and nonprescription eyewear including sunglasses. They also offer some day service on some prescriptions. On top of their many wonderful products, Creative Eyeworks also has a part-time optometrist on staff to better serve your eyecare needs. Dr. Sean Blackburn and his staff come to the office once a week.
Please help the Logan County Chamber in congratulating Creative Eyeworks as this week's Business of the Week.